Special Education is a crucial facet of our educational system, aimed at providing support to students with disabilities, learning differences, or unique needs. In this domain, the concept of Personalised Learning in Special Education is gaining prominence as a powerful tool to meet these diverse needs effectively.
Special Education is a segment of the education system that addresses the distinct requirements of students with disabilities. These disabilities can be intellectual, physical, emotional, or developmental in nature. The main objective of Special  Education is to ensure that these students receive appropriate accommodations and modifications to help them learn and succeed. This article discusses the significance and benefits of personalised learning in special education.
Challenges in Special Education
Special education is a field that has a multitude of complex challenges. The primary obstacle faced is the immense diversity of students' needs, encompassing a wide range of disabilities and learning differences.  Teachers must navigate this diversity and adapt their teaching methods to suit individual requirements, making it a demanding and highly personalised profession.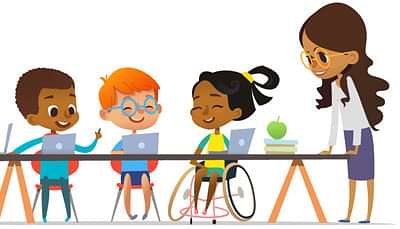 Resource limitations pose another significant challenge in special education. Insufficient funding and access to appropriate educational materials, assistive technology, and qualified personnel can harm the quality of education provided to students with disabilities. This scarcity of resources can create a barrier to implementing effective, personalised learning strategies.
Inclusion is a noble goal in special education, but it introduces its own set of challenges. Integrating students with disabilities into mainstream classrooms requires well-trained educators and a supportive school environment. Balancing the diverse needs of students, managing behavioural issues, and ensuring that all students receive an equitable education can be daunting tasks.
These challenges underscore the importance of continued investment and support in special education to ensure that all students, regardless of their diverse needs, have access to a quality education.
The Need for Personalised Learning in Special Education
Personalised learning in special education has emerged as a viable solution to the challenges faced in traditional educational settings. It focuses on making teaching methods, materials, and pace to meet the specific needs of each student. This approach acknowledges that no two students are alike and that customization is key.
Individualized Education Plans (IEPs)
IEPs are a fundamental part of special  education. These plans are designed for students with disabilities, outlining their learning goals and the services they will receive. Personalised learning in special education aligns with the IEP process, as it ensures that teaching strategies are made for each student's unique IEP.
Benefits of Personalised Learning in Special Education:
Personalised learning in special  education offers several benefits, making it a valuable approach for educators and students:
Improved Student Outcomes
When instruction is made to a student's strengths and weaknesses, they are more likely to succeed academically. Personalised learning takes into account each student's unique abilities and challenges, resulting in more significant academic progress. As students receive customised support and resources, they can achieve their full potential, resulting in improved educational outcomes.
Increased Engagement
Personalised learning methods often make learning more engaging and relevant for students, encouraging their active participation. By making the curriculum to suit individual interests and abilities, students become more actively involved in their learning journey. This heightened engagement not only fosters a deeper understanding of the subject matter but also enhances the overall educational experience, making it more enjoyable and motivating for students.
Better Self-esteem
Students with disabilities often struggle with self-esteem issues. Personalised learning can boost their confidence as they experience success in their learning journey. When students see their strengths acknowledged and their challenges addressed through personalised instruction, it positively impacts their self-esteem. This improved self-confidence extends beyond the classroom, influencing their overall well-being and future prospects.
Individualized Support
Special  education teachers can focus on the individual needs of each student, providing targeted support and resources. Personalised learning allows teachers to address each student's specific requirements effectively. They can provide customised teaching strategies, learning materials, and support systems that cater to the unique challenges and strengths of each student. This individualized approach ensures that no student is left behind and that every child receives the support they need to succeed academically.
Adapting to Learning Styles
Personalised learning recognises that different students have different learning styles. For example, a student with dyslexia may benefit from audio materials, while a student with autism might require visual aids. By catering to these specific learning styles, personalised learning can significantly enhance the learning experience for each student.
Assessment and Progress Tracking
In special education, it's essential to continually assess a student's progress and adjust instruction accordingly. Personalised learning makes this process more effective by allowing educators to track individual progress and adapt strategies as needed.
Technology's Role in Personalised Learning
Technology has become an invaluable tool in the realm of personalised learning in special education. Educational apps, adaptive software, and assistive technology can be tailored to individual needs, offering interactive and engaging learning experiences.
Inclusive Classrooms
In an inclusive classroom, students with disabilities are educated alongside their non-disabled peers. Personalised learning plays a crucial role in ensuring that students with disabilities can access the curriculum effectively and participate in the classroom community.
Teacher Training and Professional Development
To implement personalised learning in special  education successfully, teachers must receive proper training and ongoing professional development. This includes understanding different disabilities, learning strategies, and the use of technology in special  education.
Parental Involvement
In the journey of personalised learning in special  education, parents play a vital role. They work in collaboration with educators to develop IEPs, provide insights into their children's needs, and support their learning outside of the classroom.
The Future of Personalised Learning in Special Education
The Future of Personalised Learning in Special  Education is a horizon brimming with promise and innovation. As we move forward in the 21st century, the trajectory of special education is undergoing a profound transformation, with personalised learning at its core.
Emerging technologies, such as artificial intelligence and adaptive software, are poised to revolutionise the way educators cater to the diverse needs of special  education students. These tools can provide real-time insights into individual learning styles, adapting content and strategies accordingly.
The future holds a stronger commitment to inclusivity and a deeper understanding of neurodiversity. Personalised learning will become even more fine-tuned to cater to the unique strengths and challenges of students with disabilities. The education community is increasingly recognising the importance of diverse perspectives and cultural sensitivity in curriculum development, making personalised learning more inclusive and reflective of the world's rich heritage.
In the coming years, personalised learning will continue to blur the lines between in-class and remote education. With flexible learning environments and individualised support accessible from anywhere, students with disabilities will have greater access to quality education. Special education teachers will play a central role in this future, equipped with advanced training and resources to provide customised guidance.
Remembering the Essence of Special Education
Special Education, as its name suggests, is truly special. It is the embodiment of inclusivity, the spirit of accommodation, and the essence of individualized support. Personalised learning in special education is the key to unlocking the potential of students with diverse needs. It's a testament to our commitment to leaving no child behind, ensuring that every student, regardless of their abilities, has an opportunity to thrive in the educational journey.
The Future of Special  Education
As we look to the future, let's remember the words of Marian Wright Edelman: "Education is for improving the lives of others and for leaving your community and world better than you found it." Special Education and personalised learning are not just about providing education; they are about changing lives, enriching communities, and making the world a better place for all.
Conclusion
Personalised Learning in Special Education is not just an educational strategy; it's a promise of inclusivity, a commitment to diversity, and a testament to the belief that every student, regardless of their unique needs, has the potential to succeed. Personalised learning is a game-changer. It acknowledges the unique needs of students with disabilities and empowers educators to provide the support necessary for their success. By embracing personalised learning in special education, we can create more inclusive and effective educational environments for all.