Master of Business Administration, famously referred to as the MBA, is a Professional Degree, and has a huge demand in today's corporate and business world. It primarily offers Finance, Marketing and Human Resources as its specialisations.
Online MBA is basically the digital version of a traditional classroom MBA. The teaching is offered online with the help of web technologies, and students from the remotest parts of the world with network connectivity can attend the classes from the comfort of their houses, or offices. The professors at a pre-decided time start an online class and people in the class join at the same time. The assignments, case studies, presentations, exams, class activities and events all happen online.
The excessive shift of students from a traditional MBA to an online MBA is also leading to the emergence of many prestigious universities and colleges offering designated online MBA courses in the mainstream.
Pros of doing an online MBA
Flexibility
An online MBA offers an unmatchable level of flexibility, which makes it a perfect fit for individuals who cannot afford a fixed schedule on a regular basis. It is well-suited for working professionals and corporate leaders, who cannot attend classes in a traditional manner due to their long working hours and 9 to 5 jobs. They can attend lectures at their convenience in online or recorded format.
Cost Effective
An online MBA is also a low-cost MBA, for the simple reason that the investment that is required from a university or a college side to start a class is almost nil as what they have to invest in order to start a regular classroom programme. The investment in infrastructure is much less compared to traditional classroom MBA programmes.
Due to low investment and operational costs, universities and colleges can offer an online MBA for very low fees, which makes it a cost-effective option for all students. If we compare the cost of a traditional Oxford MBA to an online Oxford MBA, we can see the difference clearly.
Diverse Networking Opportunities
Networking is at the core of an MBA programme, and in an online MBA programme students participate from different nooks and corners of the world, it presents immense networking opportunities for a student to connect to people with diverse careers backgrounds and geographies.
Suppose a person is pursuing a career in Software Development and in the same online class another person is an Accounting Profession then they both can take advantage of each other's expertise.
Work and Study can go hand in hand
A working professional in an online MBA programme can manage both work and study. One can work in the daytime and can study in the night. There is no need to choose either one of them. This was the biggest dilemma for a person who wanted to do an MBA earlier, but couldn't because of his work commitments, meetings and conferences.
It is also a perfect fit for a student who wants to start his career just after finishing graduation. In the initial years, the person can attend classes and practice the same things while working in the office,
Access to Resources
In an online MBA, a student also gets access to the vast resource base of a world-class university. The student can get access to digital libraries, databases, and research materials which are made available by a university or college to their students.
For research purposes, a student doesn't have to hustle to find the resource, he doesn't have to struggle to navigate the bookstore in search of study material, all things are provided to him by the university or college only.
Cons of doing an online MBA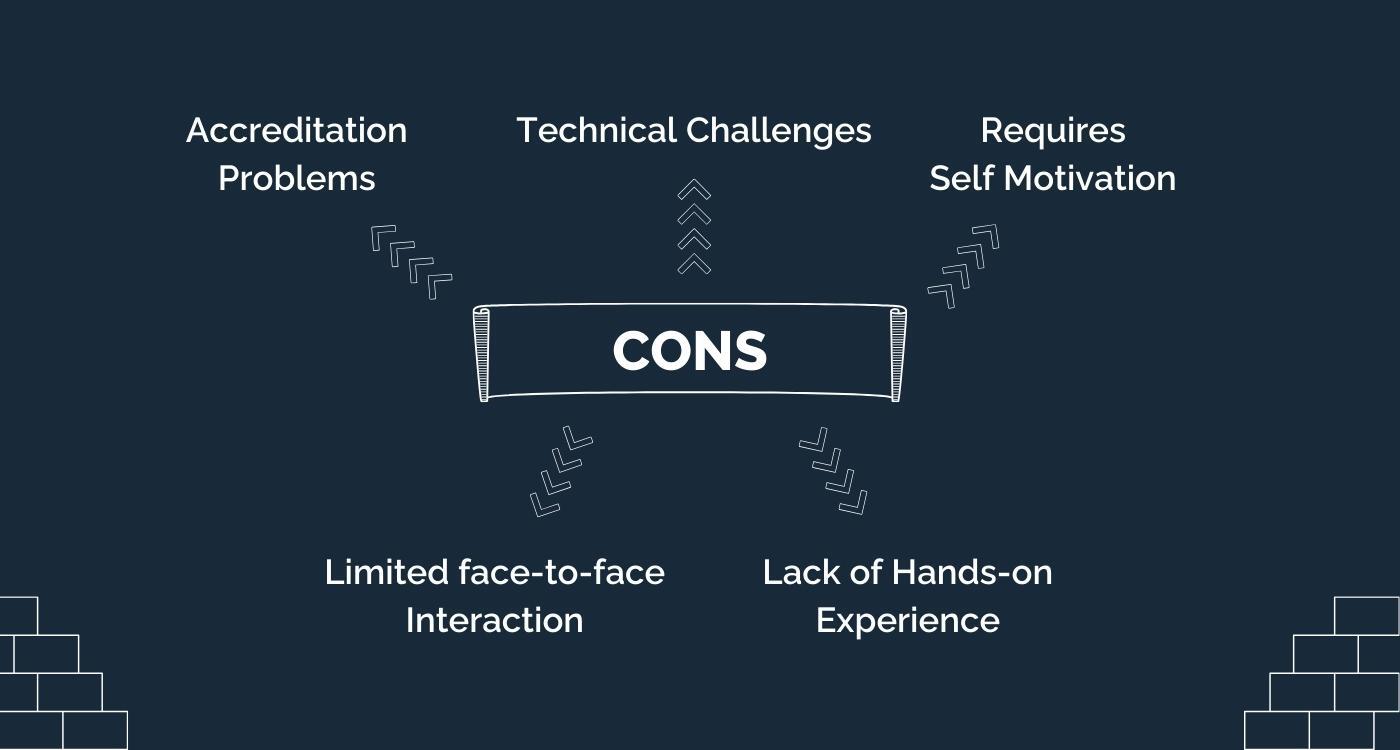 Limited face-to-face Interaction
An online MBA doesn't come with all gala-gala stuff. It has its share of disadvantages also. A classroom becomes a classroom when you have many people sitting with each other, studying, enjoying, teasing and socialising. An online MBA can never replace that feeling of face-to-face interaction.
We are human beings and mirror neurons present in our brain facilitate learning by looking at others. Hence, you miss that learning opportunity in an online MBA.
Requires Self-Motivation
Learning is a typical task and our brain hates it. At the time of studying, it gives us thousands of arguments to avoid learning. To counter those arguments, one needs a very high level of dedication and self-motivation to study it regularly after long working hours.
If someone misses out on that burning fire of learning within then it is not advisable for that person to go for an online MBA programme. Only individuals with a high level of motivation and learning potential should go for it.
Lack of Hands-on Experience
A traditional MBA offers many opportunities during the duration of the course like Internships, Projects, Assignments, Presentations and Training. In an online MBA, one misses out on that whole aspect. An online MBA programme doesn't offer many of these opportunities.
Hence, it doesn't become a perfect fit for a fresh graduate. The people who are already in the industry and are in regular corporate practice can relate and extract the best out of the programme.
Accreditation Problems
Apart from just doing an MBA from anywhere, it is always looked upon from where you are doing it and what are its accreditations. Some companies and countries do not consider an online degree a real degree as a person lacks many experiences which are expected from a course. The same is true for an online MBA.
But, things are changing slowly, governments and companies are slowly making themselves accustomed to this new trend. Yet, some exceptions will always be there.
Technical Challenges
Last but not least, smooth online MBA classroom learning requires good-quality hardware with robust network connectivity. Many areas in the world still lack that privilege. For the time being, technical challenges are going to stay and challenge the smoothness that we expect from an online classroom.
Hence, it is recommended that you should opt for an online MBA only if you have sound technical connectivity.
Conclusion
Millions of students all over the world look at this degree with a lot of hope. Every year many people including fresh graduates and working professionals go for the course for various reasons such as to get a high-paying job, to get a promotion in their careers, to learn the technicalities of day-to-day business, or to update their role in the organisation.
With the ever-evolving scenario of business because of global integration facilitated by the advancement in technology, the scope of an MBA is increasing day by day, as more and more people are opting for it every year. The combination of an increase in demand and an advancement in technology has led to a new type of MBA offering that is remote and online in nature.
In the above article, we discussed the pros and cons of doing an online MBA. It is recommended that a person according to his requirements should decide which type of MBA will fit his career requirements and make a decision wisely to avoid any hassle in the future.