In a world increasingly driven by data and technology, a mathematics degree is a powerful asset that opens doors to a wide range of exciting and rewarding career opportunities.
Mathematics, often hailed as the "queen of the sciences," has a rich history that spans across continents, boasting legendary mathematicians whose collective contributions have shaped the modern world. It also finds applications in various fields that go beyond traditional academic disciplines, offering a plethora of career paths for those who choose to pursue mathematics degrees.
In this comprehensive article, we will delve deep into the historical significance of mathematics, explore the fascinating contributions of some of the foremost mathematicians, examine its diverse and ever-evolving applications, and shed light on the promising careers that await those with mathematics degrees.
The History of Mathematics
Mathematics is not just a subject; it's a language of patterns, numbers, and relationships that have been an integral part of human civilization for millennia.
Its roots can be traced back to ancient civilizations such as the Babylonians, Egyptians, Greeks, and Indians, all of whom made pivotal contributions to the development of mathematical thought. The Greeks, with luminaries like Euclid and Pythagoras, laid the foundation for geometry and number theory, whereas India's mathematical legacy encompassed the concept of zero, advanced algebraic techniques, and trigonometric principles.
The Middle Ages witnessed the preservation and transmission of mathematical knowledge by Islamic scholars like Al-Khwarizmi, whose work on algebra laid the groundwork for the subject as we know it today.
During the Renaissance, the likes of Leonardo da Vinci and Johannes Kepler integrated mathematics into art and astronomy, respectively, demonstrating its versatility and interdisciplinary nature.
Foremost Mathematicians
Archimedes
Known for his contributions to geometry, Archimedes made significant advancements in calculating areas, volumes, and the concept of pi. His work, including the determination of the value of pi, stands as a testament to the power of mathematical reasoning in solving practical problems.
Isaac Newton
His laws of motion and universal gravitation revolutionized not only physics but also mathematics. Newton's pioneering work in calculus provided a new mathematical language for describing the dynamics of the physical world, and it laid the foundation for the scientific revolution.
Leonhard Euler
Euler's prolific work spanned various mathematical areas, including number theory, topology, and graph theory. He is credited with introducing the concept of mathematical functions, a fundamental concept in modern mathematics. His extensive contributions include the famous Euler's formula, which elegantly connects complex numbers, trigonometry, and exponential functions.
Aryabhata
In ancient India, Aryabhata made significant strides in mathematics, particularly in trigonometry and algebra. His treatise, the "Aryabhatiya," not only introduced the concept of zero but also provided methods for solving equations and calculating square roots. Aryabhata's work was instrumental in advancing mathematical thought during his time and has had a lasting impact on mathematics.
Brahmagupta
Another luminary from ancient India, Brahmagupta, made important contributions to algebra and number theory. He is renowned for his work on negative numbers and zero, providing rules for arithmetic operations involving these fundamental mathematical concepts. Brahmagupta's contributions laid the groundwork for the development of algebraic and arithmetic systems.
Srinivasa Ramanujan
Often referred to as the "Man Who Knew Infinity," Ramanujan's profound work in number theory and modular forms earned him international acclaim. His mathematical notebooks, filled with thousands of results, continue to inspire mathematicians worldwide. Ramanujan's contributions, especially in the theory of partitions and modular forms, have had a lasting impact on various branches of mathematics.
Applications in Various Fields
Mathematics is not confined to the realm of abstract theories; it permeates every facet of our lives and finds applications in diverse fields, often intersecting with other scientific disciplines:
Engineering
Engineers rely on mathematics for modelling, analysis, and design, whether it's building bridges, designing aircraft, or developing cutting-edge technology. Mathematical principles underpin structural engineering, electrical engineering, and mechanical engineering, allowing for the design and analysis of complex systems.
Finance
In the world of finance, quantitative analysts (quants) use mathematical models to make informed financial decisions, manage risk, and optimize investment portfolios. These mathematical models encompass stochastic calculus, probability theory, and statistical analysis, enabling financial institutions to navigate dynamic markets.
Medicine
From analyzing medical data to creating imaging techniques like MRI, mathematics plays a pivotal role in healthcare. Medical researchers and practitioners utilize mathematical modelling to understand biological processes, develop treatment protocols, and optimize drug dosages. In diagnostic imaging, mathematical algorithms are essential for image reconstruction and data interpretation.
Computer Science
Algorithms, cryptography, artificial intelligence, and data science are all deeply rooted in mathematics. Computer scientists rely on mathematical principles to design efficient algorithms, ensure the security of digital communication, and develop machine learning models. Mathematical concepts, such as linear algebra and graph theory, are foundational to the field.
Environmental Science
Mathematical models help predict climate change, study ecosystems, and manage natural resources. Environmental scientists employ mathematical modelling to simulate complex ecological systems, forecast environmental trends, and inform policy decisions. Mathematical tools are instrumental in assessing the impact of human activities on the environment and devising sustainable solutions.
Space Exploration
Mathematics guides celestial navigation, rocket trajectory calculations, and the study of celestial bodies. Astronomers and astrophysicists use mathematical equations to predict the positions of planets, analyze the behaviour of galaxies, and formulate theories about the universe's origins. Mathematics is essential for launching spacecraft with precision and ensuring they reach their intended destinations.
Significance of  a Mathematics Degree
A mathematics degree holds immense significance, transcending the boundaries of academia. It equips individuals with a powerful analytical toolkit, fostering problem-solving skills critical in diverse fields. Mathematicians contribute to advancements in technology, finance, and science, playing a pivotal role in shaping our modern world. They design algorithms, model complex systems, and optimize processes, enabling breakthroughs in artificial intelligence, cryptography, and engineering. A mathematics degree cultivates logical reasoning and precision, enhancing decision-making in everyday life. It fosters resilience and a deep understanding of abstraction, imparting versatile expertise that resonates in various industries, from research and data analysis to education and even art.
Careers Related to Math Degrees
A mathematics degree is not only versatile but highly valued in the job market. It equips graduates with a unique skill set that transcends specific industries, making them sought-after professionals in various fields. Here is a more in-depth exploration of promising careers for math graduates: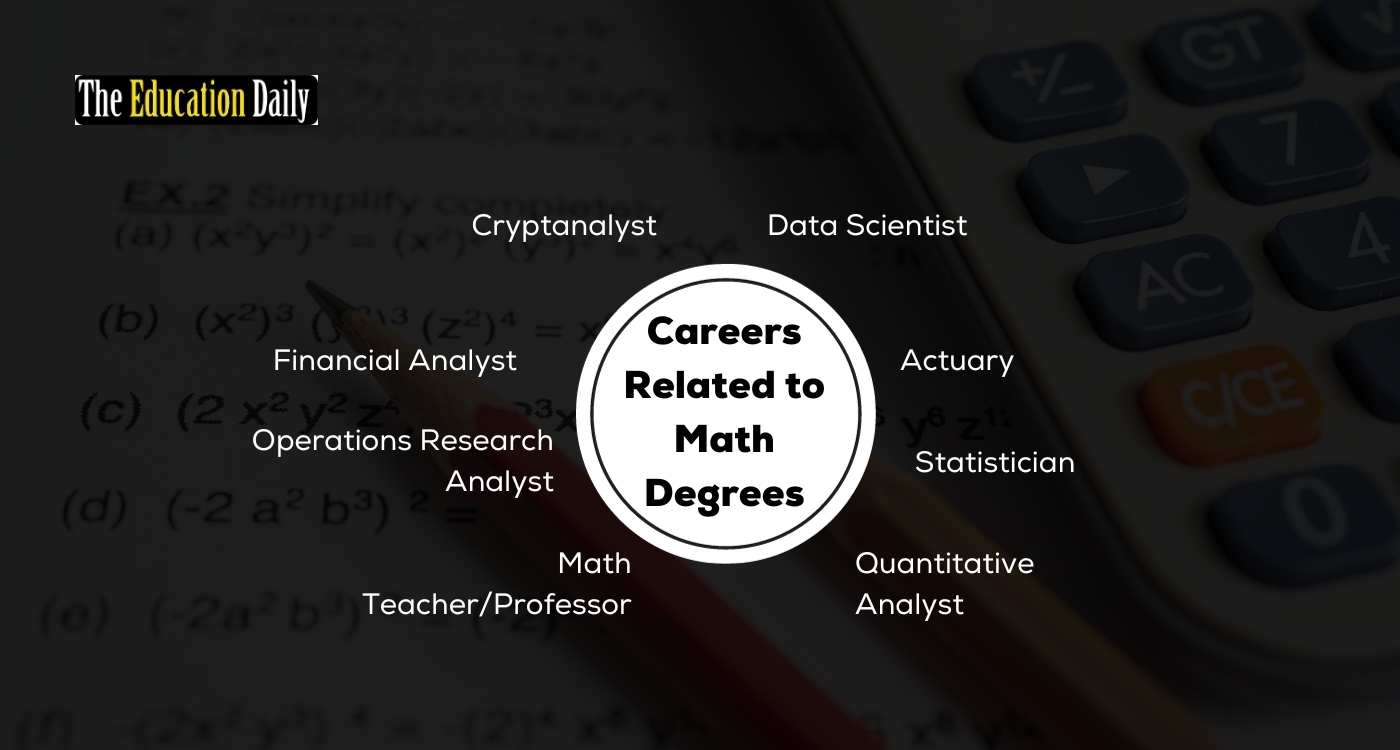 Actuary
Actuaries are experts in assessing financial risks for insurance companies, helping them make informed decisions on premiums, investments, and pensions. Actuarial work involves complex mathematical modelling, statistical analysis, and risk management. Actuaries play a critical role in ensuring the financial stability of insurance providers. A mathematics degree helps in achieving the best in this career.
Data Scientist
Data scientists extract insights from large datasets, using statistical analysis and machine learning to inform business decisions. In addition to proficiency in programming languages like Python and R, data scientists leverage advanced mathematical techniques to develop predictive models, identify trends, and optimize processes. They are pivotal in shaping data-driven strategies for organizations across industries. There are many universities which offer a mathematics degree based on Data science only.
Statistician
Statisticians design experiments, collect data, and interpret results to solve real-world problems in fields like healthcare, economics, and marketing. Their expertise in statistical methods allows them to draw meaningful conclusions from data, helping organizations make evidence-based decisions. Statisticians work in diverse settings, including government agencies, research institutions, and pharmaceutical companies. Mathematics degree with a specialisation in statistics are bedrock for this career.
Math Teacher/Professor
Educators inspire the next generation of mathematicians by imparting knowledge in schools and universities. A Mathematics Degree plays a crucial role in nurturing students' mathematical abilities, fostering problem-solving skills, and instilling a love for the subject. They engage in curriculum development, research, and pedagogical innovation to enhance mathematical education.
Operations Research Analyst
Operations research analysts use mathematical models to optimize complex processes and improve decision-making in industries such as logistics and transportation. These analysts tackle challenging optimization problems, such as route planning, resource allocation, and supply chain management. Their work leads to cost savings, increased efficiency, and improved outcomes for organizations.
Financial Analyst
Financial analysts assess investment opportunities, analyze market trends, and provide recommendations to clients. Their analytical skills, coupled with financial modelling techniques, enable them to evaluate the potential risks and returns associated with various investment options. Financial analysts work for financial institutions, investment firms, and corporations.
Cryptanalyst
In the realm of cybersecurity, cryptanalysts use mathematical techniques to decode and analyze encrypted data, identifying vulnerabilities. They play a crucial role in safeguarding digital information and ensuring the security of communication systems. Cryptanalysts work for government agencies, cybersecurity firms, and technology companies, protecting sensitive data from malicious actors.
Quantitative Analyst
Quants develop and implement mathematical models to predict financial market behaviour and assess investment risks. They utilize advanced mathematical concepts, including stochastic calculus and time series analysis, to generate trading strategies and risk management solutions. Quantitative analysts are instrumental in the finance industry, particularly in quantitative trading and asset management.
Conclusion
In a world shaped by technology, data, and scientific discovery, the value of a mathematics degree is immeasurable. From its rich historical roots, including contributions from India, to the insights of legendary mathematicians, the applications in various fields, and the array of promising careers it offers, mathematics remains a dynamic and essential discipline.
So, if you're considering a career in mathematics, rest assured that the horizon is bright, and the opportunities are limitless. Mathematics Degree not only unlocks the door to a world of possibilities but also equips individuals with the tools to shape the future through innovation, problem-solving, and the pursuit of knowledge.