In today's digital age, the field of media and communications is more dynamic and influential than ever before. Pursuing a degree in Media Communication opens doors to a wide range of exciting and impactful career paths within the realm of mass media.
 In this article, we'll uncover the myriad opportunities awaiting you in Media Communication degrees and explore how you can unleash your full potential in this rapidly evolving field.
Media Communication Degrees
Media Communication degrees serve as the cornerstone for individuals looking to dive into the world of mass media. These comprehensive programs provide students with a deep understanding of media dynamics, encompassing traditional and digital platforms. 
Understanding Media Dynamics:
 Media Communication degrees equip students with a profound understanding of media dynamics, including traditional and digital platforms. Through in-depth exploration,  gives insights into the historical underpinnings, theoretical frameworks, and contemporary trends that govern the media landscape.
Effective Communication Skills: 
At the heart of media lies effective communication. Media Communication programs place a strong emphasis on the development of written and verbal communication skills. These are essential tools for success in any mass-media career, empowering you to articulate ideas, influence opinions, and engage diverse audiences.
Media Ethics and Responsibility: 
Media is a powerful force that shapes opinions and perceptions. As such, Media Communication degrees prioritize ethical and responsible media use. Graduates emerge not only as skilled professionals but also as responsible global citizens, equipped with the ethical compass needed to navigate the complex media terrain.
Digital Proficiency: 
In today's digital world, proficiency in digital tools and platforms is crucial. Media Communication programs integrate comprehensive training in digital media, content creation, and social media management. You'll develop hands-on skills, enabling you to harness the potential of digital media effectively.
Media Research and Analysis:
 In the age of information, the ability to critically assess media content is invaluable. Media Communication graduates become adept at media research and analysis, enabling them to evaluate media narratives, discern biases, and make informed decisions in their careers.
Exploring Mass-Media Careers:
A degree in Media Communication opens the door to a multitude of exciting mass-media career options. Here, we delve into these diverse paths, providing insights into the range of opportunities that await:
Journalism:
As a journalist, your role extends to print, broadcast, or digital media. You'll be at the forefront of reporting news, covering events, and crafting compelling stories that inform and engage the public. Options include investigative journalism, sports reporting, and feature writing.
Public Relations (PR) Specialist:
 PR specialists play a pivotal role in shaping public perceptions. They are responsible for building and maintaining a positive public image for organizations and individuals. This involves crafting persuasive press releases, managing media relations, and skillfully handling crisis communications.
Advertising and Marketing:
The world of advertising and marketing offers boundless creativity and strategic thinking. Media Communication graduates can pursue careers as copywriters, media planners, or social media managers. You'll be responsible for creating and promoting brands and products, leveraging your communication skills to capture audiences' attention.
Content Creation and Editing:
With the rise of digital content, there is a constant demand for content creators, editors, and content strategists. This encompasses producing a wide range of content, including written articles, videos, podcasts, and social media posts, to engage diverse audiences.
Digital Media Management: 
Managing digital platforms and social media accounts for organizations is a vital role in today's media landscape. Media Communication graduates can excel in this field, driving engagement and growth while maintaining brand identity and online reputation.
Broadcasting:
 For those drawn to the world of television and radio, Media Communication degrees provide the necessary foundation. Whether you aspire to be an anchor, producer, or behind-the-scenes technician, you'll play an integral role in delivering news and entertainment to audiences.
Film and Video Production:
 For those with a passion for filmmaking and video production, Media careers offer opportunities as directors, producers, editors, or cinematographers in the film and television industry. You'll bring stories to life through the art of visual storytelling.
Media Analysis and Research:
In an era where data drives decisions, media analysis and research roles are in high demand. Media Communication graduates can pursue careers studying media trends, analyzing audience behaviour, and conducting market research to inform strategic decisions.
The Power of Networking and Internships: 
While Media Communication degrees provide a strong foundation, networking and internships are equally critical in the mass-media industry. Here's why:
Networking: 
Building robust relationships with professionals in the field can open doors to job opportunities, collaborations, and invaluable mentorship. Attend industry events, join relevant associations, and connect with alumni to expand your network and gain insights into industry trends and opportunities.
Internships:
 Internships offer hands-on experience and a chance to apply what you've learned in real-world scenarios. Many employers highly value internship experiences when hiring for entry-level positions. It's an opportunity to gain practical skills, build your portfolio, and make meaningful industry connections.
Adapting to the Digital Revolution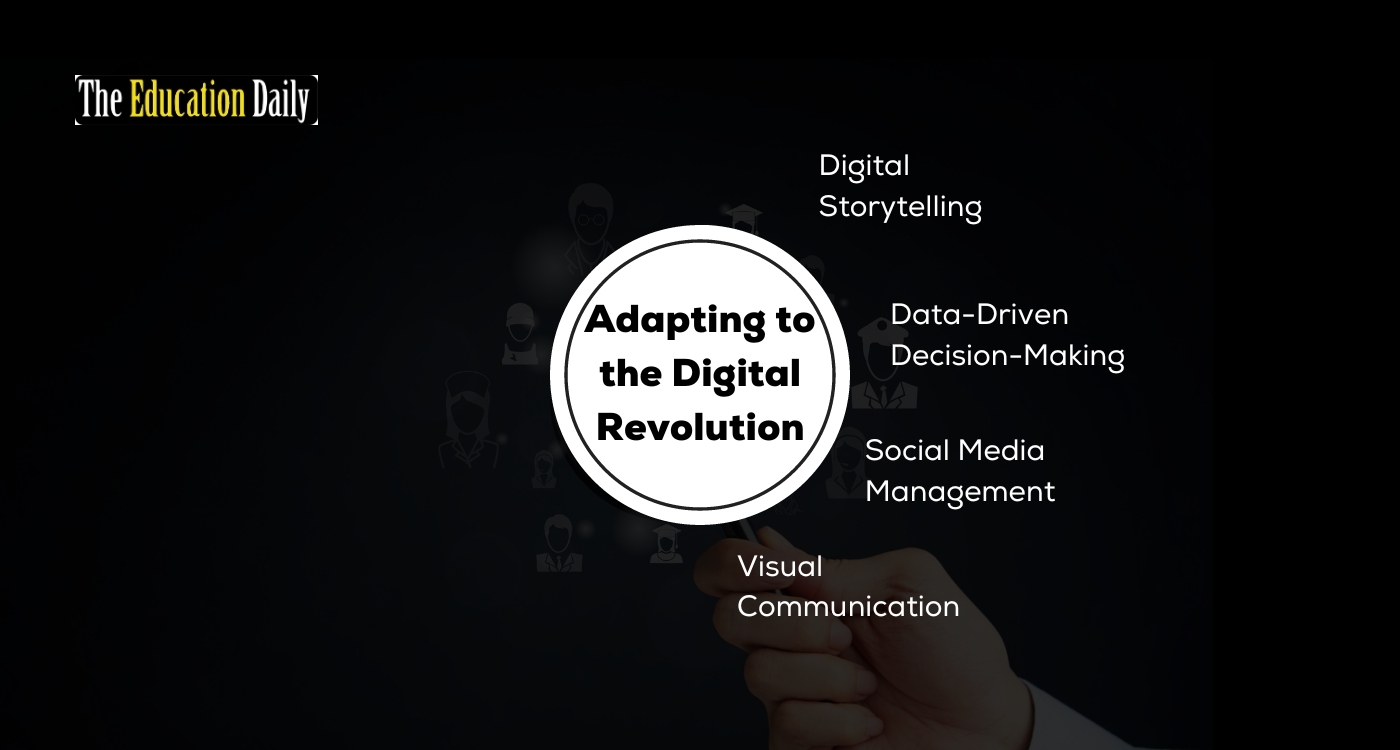 The mass media landscape is undergoing a digital revolution, with constant advancements in technology and shifts in consumer behaviour. Media Communication degrees are adapting to these changes, ensuring that graduates are well-prepared for the digital age.
Digital Storytelling:
Storytelling remains at the core of mass media, but it has evolved in the digital era. Media Communication graduates are well-versed in the art of digital storytelling, using various digital mediums such as websites, social media, and podcasts to convey compelling narratives.
Data-Driven Decision-Making:
Data analytics and audience insights are becoming increasingly important in mass media. Media Communication programs teach students how to harness the power of data to make informed decisions and optimize content strategies, ensuring content resonates with target audiences.
Social Media Management: Social media is a potent tool for mass media professionals. Courses in social media management encompass strategies for engagement, content creation, and community building. Graduates are equipped to manage social media platforms effectively, driving audience engagement and growth.
Visual Communication:
Visual content, including infographics and videos, plays a significant role in digital media. Media Communication degrees include coursework in visual communication, enhancing graduates' multimedia skills and enabling them to create visually captivating content.
The Future of Media and Communication Degrees
As technology continues to evolve, the future of Media Communication degrees looks exceedingly promising. Graduates will be well-equipped to navigate the ever-changing landscape and contribute to shaping the future of mass media. This field offers continuous learning and growth opportunities, making it an exciting and fulfilling career choice.
Conclusion
A degree in Media Communication is your gateway to a world of possibilities in mass media careers. Whether you aspire to be a journalist, PR specialist, content creator, or digital media manager, the skills and knowledge you gain through your studies will empower you to thrive in this dynamic and influential field. 
Embrace the digital revolution, build your network, and seize every opportunity to unleash your potential in Media and Communications degree careers. Your journey in mass media awaits, filled with endless opportunities for creativity, impact, and growth. Dive in and shape your future in the world of mass media.