In the rapidly evolving landscape of education, the fusion of artificial intelligence (AI) and technology has ushered in a new era of teaching and learning. This synergy, often referred to as "AI in education" or "Technology in Education," holds the potential to reshape traditional classroom dynamics.
In this article, we will discuss the multifaceted implications of AI's role in school education, examining its benefits and downsides.
The Rise of AI in Education
The advent of AI in education is a symbol of the broader trend of technology permeating all aspects of modern life. Its integration into educational systems is driven by several factors, such as the need for personalized learning experiences, improved administrative efficiency, and the ability to adapt to diverse learning styles.
One of the key benefits of AI in education is its capacity to provide personalized learning experiences. Traditional classrooms often struggle to cater to the individual needs of students with varying abilities and learning paces.
AI-powered tools, however, can analyze student performance data and tailor educational content to suit each student's strengths and weaknesses. This not only enhances student engagement but also improves learning outcomes.
Benefits of AI in Education
Personalized Learning:
AI algorithms can create customized learning pathways for students, adjusting the difficulty level and pace to match their abilities. This individualized approach helps students grasp concepts more effectively. Moreover, AI continually adapts to a student's progress, ensuring that they are neither held back by the slow pace of the class nor left behind due to a fast-moving curriculum.
Immediate Feedback:
AI-driven assessment tools can provide instant feedback on assignments and tests, allowing students to identify and rectify their mistakes promptly. This fosters a culture of continuous improvement. In addition, teachers can also benefit from this immediate feedback as they gain insights into areas where students commonly struggle, enabling them to adjust their teaching methods accordingly.
Efficient Administrative Tasks:
Administrative tasks, such as scheduling, grading, and attendance tracking, can be automated using AI, freeing educators to focus more on teaching and mentoring. This efficiency not only reduces the administrative burden but also ensures that these tasks are carried out with a high degree of accuracy, minimizing errors in grading and attendance records.
Accessibility:
AI-powered educational tools can make learning more accessible to students with disabilities by providing assistive technologies like text-to-speech and speech-to-text functions. These features empower students with disabilities to engage with the curriculum effectively, fostering a more inclusive educational environment.
Global Reach:
Technology enables students to access educational content from around the world, breaking down geographical barriers and allowing for a broader and more diverse curriculum. Students can explore different cultures, perspectives, and educational resources, enriching their learning experiences.
Engaging Learning Materials:
AI can create interactive and engaging learning materials, including virtual simulations and gamified lessons, which can make learning more enjoyable and effective. These materials not only capture students' attention but also encourage active participation and critical thinking, making the learning process more dynamic.
Data-Driven Insights:
Schools and educators can gain valuable insights from AI-generated data, helping them make informed decisions about curriculum development, teaching strategies, and resource allocation. Data analysis allows schools to identify trends, assess the effectiveness of teaching methods, and allocate resources where they are needed most, thereby enhancing the overall quality of education.
Technology in Education: A Closer Look
While AI in education offers substantial advantages, it is crucial to acknowledge the potential downsides and challenges. One of the primary concerns is the digital divide, where students from disadvantaged backgrounds may lack access to the necessary technology and resources, exacerbating educational inequalities.
Downsides of AI in Education
Digital Divide:
Not all students have equal access to technology and high-speed internet, creating disparities in educational opportunities. This digital divide can perpetuate inequalities in learning outcomes. Addressing this challenge requires concerted efforts by governments and educational institutions to provide affordable and accessible technology solutions to underserved communities.
Privacy Concerns:
The collection and analysis of student data by AI systems raise privacy concerns. Safeguarding sensitive information and ensuring compliance with data protection laws is a significant challenge. Educational institutions must establish robust data protection policies and mechanisms to reassure students and parents about the security of their data.
Loss of Human Interaction:
Over-reliance on AI in education may diminish the importance of human interaction between students and teachers. Building social skills and emotional intelligence are critical aspects of education that cannot be replaced by machines. To strike the right balance, educators must integrate technology as a complement to, rather than a replacement for, human instruction.
Quality Control:
The quality of AI-generated educational content varies widely. Ensuring that AI-generated materials meet educational standards and are free from bias requires ongoing oversight and curation. Educational institutions should adopt a rigorous review process to evaluate and enhance the quality of AI-generated content.
Teacher Training:
Integrating AI into education necessitates teacher training to effectively use AI tools. This transition can be time-consuming and costly for educational institutions. Therefore, investing in professional development programs for educators is essential to maximize the benefits of AI in the classroom.
Algorithmic Bias:
AI systems can inherit biases from their training data, potentially perpetuating stereotypes and inequalities in the educational content they provide. To mitigate bias, AI algorithms should undergo continuous monitoring and auditing, and datasets used for training should be diverse and representative.
Addressing the Downsides
To harness the benefits of AI in education while mitigating its downsides, a multifaceted approach is necessary. Educational institutions and policymakers must work collaboratively to bridge the digital divide by providing access to technology and the Internet to all students, especially those from disadvantaged backgrounds.
Additionally, stringent data protection measures and ethical guidelines should be in place to safeguard student privacy.
Moreover, it is essential to strike a balance between AI-driven learning and traditional teaching methods. While AI can enhance the learning process, the importance of human interaction and mentorship cannot be understated. Teachers should continue to play a central role in education, guiding students and fostering critical thinking skills.
How This AI Evolution Will Reach the Last Mile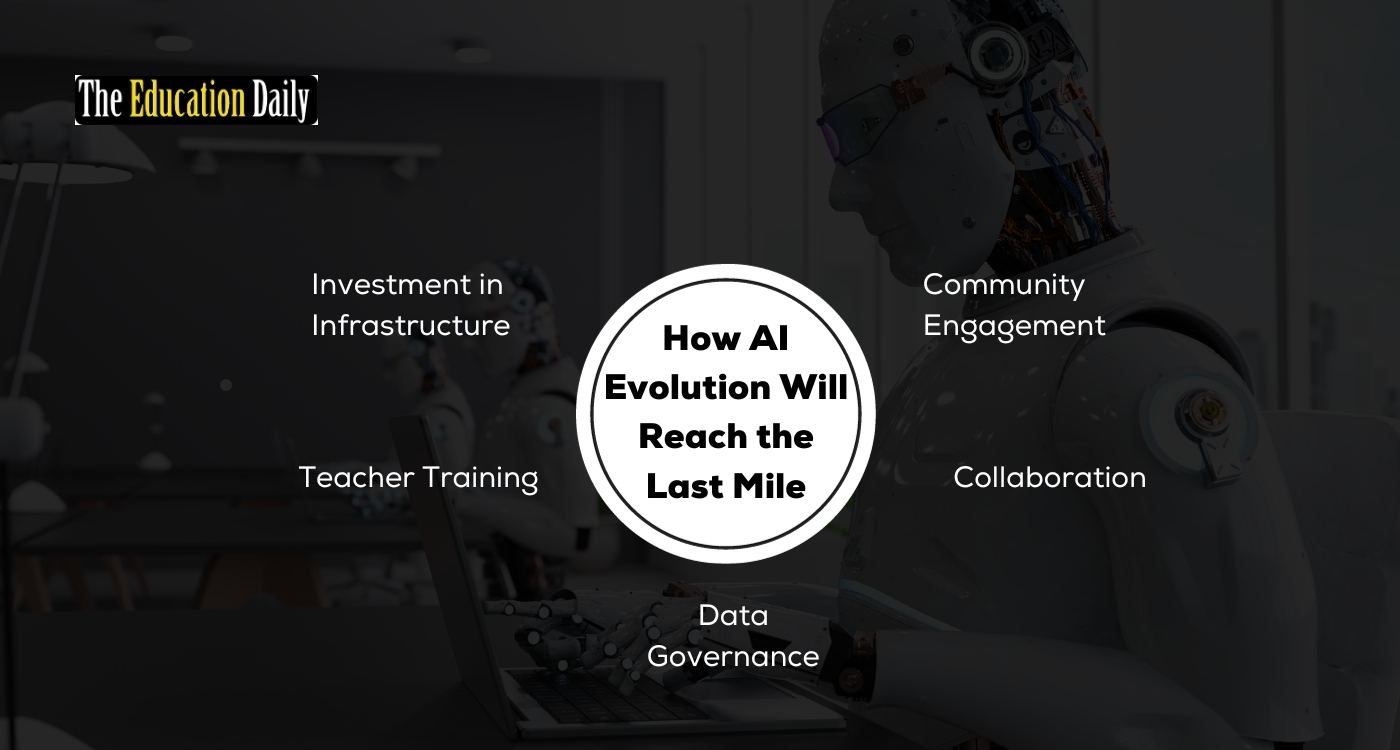 Investment in Infrastructure:
Governments and educational institutions should invest in the necessary infrastructure, including affordable devices and high-speed internet access. Initiatives such as subsidizing technology for low-income families can bridge the digital divide.
Teacher Training:
Comprehensive training programs should be designed to empower educators with the knowledge and skills needed to effectively integrate AI into their teaching methods. Continuous professional development should be encouraged to keep teachers updated on the latest AI tools and techniques.
Community Engagement:
Schools should actively engage with parents and communities to ensure that everyone understands the benefits of AI in education and is on board with its implementation. Open dialogues can address concerns and build support for AI initiatives.
Data Governance:
Robust data governance policies should be established to protect student privacy while allowing for meaningful analysis of educational data. Transparency in data collection and usage is essential to build trust among stakeholders.
Collaboration:
Collaboration between governments, educational institutions, technology companies, and researchers is crucial to drive innovation and share best practices in AI education. Partnerships can help develop high-quality AI-powered educational resources and tools.
Conclusion
The integration of AI in education, closely intertwined with technology in education, is reshaping the way we teach and learn. It offers numerous benefits, including personalized learning experiences, immediate feedback, and efficient administrative tasks.
However, it also presents challenges, such as the digital divide, privacy concerns, and maintaining the importance of human interaction. Taking this evolution to the last mile requires a concerted effort to ensure that AI-driven education is accessible, equitable, and effective for all students.
By addressing the downsides, investing in infrastructure and teacher training, engaging communities, and implementing strong data governance, we can harness the full potential of AI in education and usher in a new era of learning that empowers students and prepares them for the challenges of the future.