You might be wondering if bitcoin and other cryptocurrencies can help your business given how popular they are right now.
But what if I told you that blockchain technology, which powers bitcoin, actually presents the biggest potential for businesses of all kinds? Blockchain, the open ledger that keeps track of all bitcoin transactions, is more than simply a passing trend; it's revolutionising society.
You don't trust me? Learn more about blockchain as you read on to discover how it functions, who is utilising it, and what the future holds for the technology.
What is Blockchain?
A ledger system called blockchain employs an open, distributed record to keep track of transactions, which can include trading in cryptocurrencies, NFTs, personal data like medical records or voting information, or even real estate.
These transactions are collected into blocks, all of which are then validated by other system users by solving mathematical equations. When a block is validated, it joins a chain of other permanent, previously verified blocks and cannot be changed.
A blockchain is made up of the records stored within these blocks, and its users all maintain a copy of this record. Although in theory, it's just a huge shared ledger, in practise it's considerably more interesting than that.
Consider the scenario when your air fryer from last year isn't all that great and you hardly ever use it. To sell it, you may employ a third-party vendor like eBay. These sellers serve as the intermediary, introducing you (the seller) to possible purchasers; they are compensated through fees.
Let's imagine that the buyer is from Germany in this instance. When you sell something on eBay, the marketplace confirms the deal with both your bank and the buyer's bank. It also verifies the existence of both the end user and your air fryer. But if you sell an air fryer using blockchain technology, you can do away with all the intermediaries and still conduct a fast, safe, and secure transaction, even across borders.
It's that simple. There's no need for eBay, banks, fees, or exchange rates.
History of Blockchain
Let's first discuss the history of blockchain before delving into the specifics of how it enables this. Peer-to-peer electronic payments were made possible by the anonymous bitcoin creator Satoshi Nakamoto in October 2008.
His cryptocurrency created the first blockchain in history. It didn't take long for people to begin altering the code behind bitcoin because its software is open source, allowing anybody to view, reuse, and adapt it.
Early on, most blockchain users focused on creating upgraded versions of bitcoin. Faster transactions were the goal of Litecoin, an alternative cryptocurrency created by a former Google employee. Others were designed for consumers turned off by bitcoin's high price point, such as the meme-inspired Dogecoin.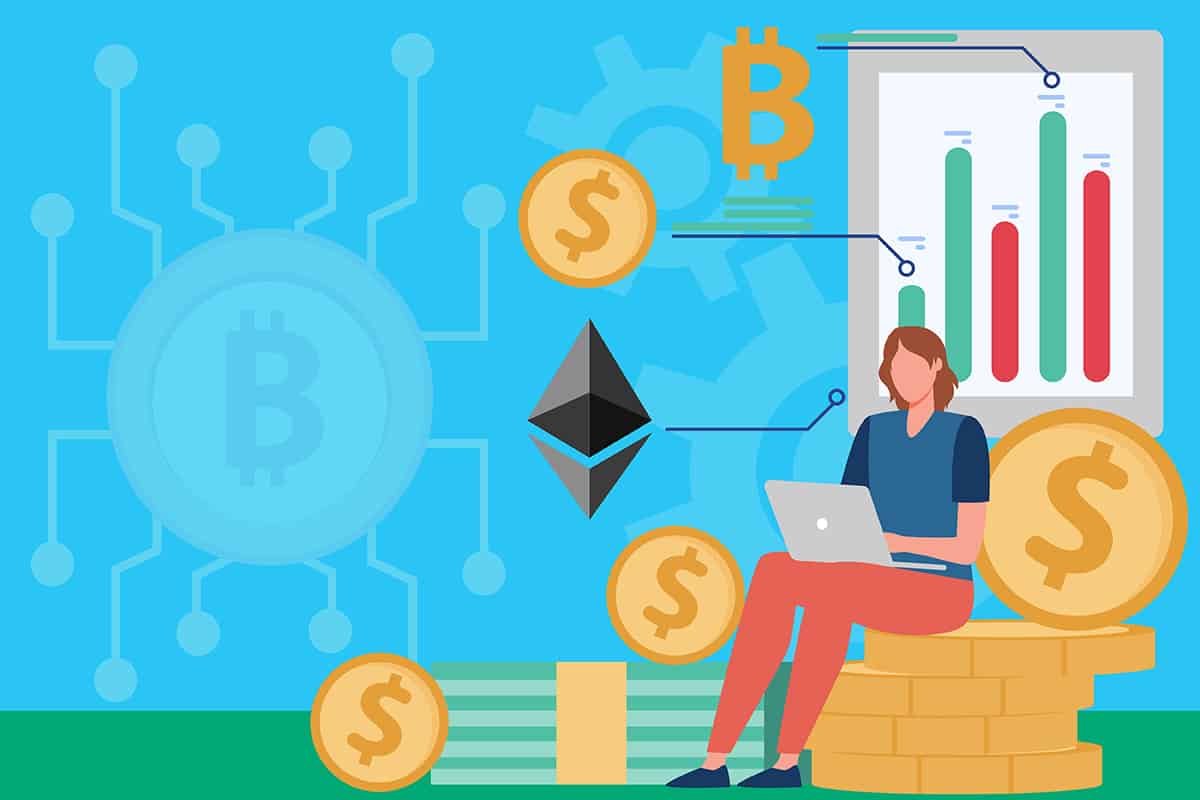 One of the first applications of blockchain for something other than cryptocurrencies was created by Namecoin.org. As an alternative to the main domain name administration system, the technology registers.bit domain names using blockchain.
It is very challenging for outside parties, such as the government, to seize control of websites thanks to Namecoin. .bit domains are virtually impossible to modify without the encryption key because they are registered in a blockchain.
The next major development occurred in 2013 when a small firm by the name of Ethereum published a paper explaining a method for programmers to quickly design completely new blockchains without relying on the source code for bitcoin.
Two years later, Ethereum released its brand-new platform, enabling users to use blockchain technology for purposes other than money.
Companies and individuals are currently investigating how to employ blockchain technology in a variety of areas, including supply chain management, healthcare, and energy, but more on that later.
How Does Blockchain Work?
A blockchain can be set up in a variety of ways, but Harvard Business Review outlined five criteria that all blockchains should follow.
First of all, every blockchain makes use of a distributed database, which allows any user to see the entire database, including its transaction history.
Users now have the ability to independently check any information they require and carry out transactions without the necessity of middlemen thanks to this transparency.
Second, all conversations and transactions take place between peers. In a blockchain, each user maintains data and communicates directly with all other parties.
This technique eliminates the need for intermediaries and centralised storage facilities like banks. Users, also known as nodes, have all the information they require to evaluate other users.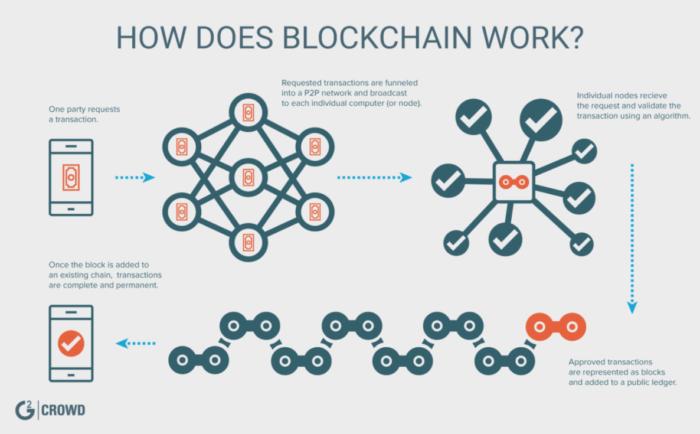 Third, even though blockchains are open-source, each user connected to one can maintain their anonymity. Each user has a distinct "30-plus-character alphanumeric address" that they use in place of a name in order to conceal their identity. With their blockchain address, users can opt to reveal their identity or maintain their anonymity.
Fourth, because blockchain relies on a digital ledger, algorithms can automate the entire transactional process. For instance, you must pay for a variety of other insignificant expenses when you purchase a home, such as a title registration, mortgage lenders, inspections, and legal fees.
Fifth, a record cannot be changed after it has been created. A transaction's record is shared with all other parties on the blockchain as part of the decentralised ledger after it has been verified by miners.
The math problem for the subsequent block in the chain is likewise generated using a portion of each validated transaction. This implies that each transaction is linked to those that came before it and that there is no single point of failure in the storage of all those transactions across various machines.
Both sorts of networks have one significant distinction yet both types of blockchains can contain the five features stated below. Anybody can join, execute, and verify transactions on a public blockchain, and everyone keeps a copy of the decentralised ledger.
One of the biggest existing instances of a public blockchain network is the bitcoin blockchain. Users that receive an invitation to join the network and are given permission to enter are the only ones who can participate in a private blockchain. Consider how Facebook's early years were similar when users need email addresses from specific institutions.
In addition to providing greater security, private blockchains are also significantly more cost-effective because fewer resources are needed to verify transactions in a smaller network.
Benefits of Blockchain
Blockchain Security
The extremely secure network of blockchain is one of its biggest advantages. Blockchain-based data transmission is far more secure than traditional username-password security since it is naturally encrypted. However, it is the user base of the blockchain that provides true security advantages.
Blockchain-based decentralised data storage makes it very difficult to get into because there is no "single point of failure." What does this all imply? Imagine that you have a backup copy of every document on a single hard drive.
Your documents are lost permanently if that hard disc is lost, stolen, or destroyed. However, it's improbable that you will ever lose your data if all of your documents are saved on thousands of various hard drives. The strength of blockchain security is that.
Blockchain also provides privacy. Without blockchain, systems authenticate transactions using a range of data, including names, addresses, card numbers, and social security numbers. All of this private data is susceptible to theft. Only the private key matters in a blockchain.
Decentralization and Smart Contracts
Blockchain also provides privacy. Without blockchain, systems authenticate transactions using a range of data, including names, addresses, card numbers, and social security numbers. All of this private data is susceptible to theft. Only the private key matters in a blockchain.
Speed and Efficiency
Finally, blockchain is quick and effective. Manual data entry is time-consuming and error-prone. Consider this. How many mistakes do you frequently make when writing emails? For various functions, the majority of firms employ multiple recordkeeping systems.
The speed of verification on a blockchain has many advantages. For instance, with present techniques, it can take up to a week to authenticate a straightforward stock purchase. The process involves numerous forms, groups, and an absurd number of acronyms.
Investing in Blockchain
The adoption of blockchain technology will probably take a long time because it is a complex topic. Prior to thinking about how to use blockchain technology, small and medium-sized firms should wait for it to mature.
They can begin experimenting with blockchain applications in a few different ways, though. We'll go through how companies can start making strategic investments in blockchain technology in this part.
According to Harvard Organization Review, novelty and complexity are the two things to take into account when estimating how rapidly new technology may affect a business. Novelty is a measure of how familiar consumers are with the programme. The longer it takes for a technology to become standard, the more innovative or strange it is.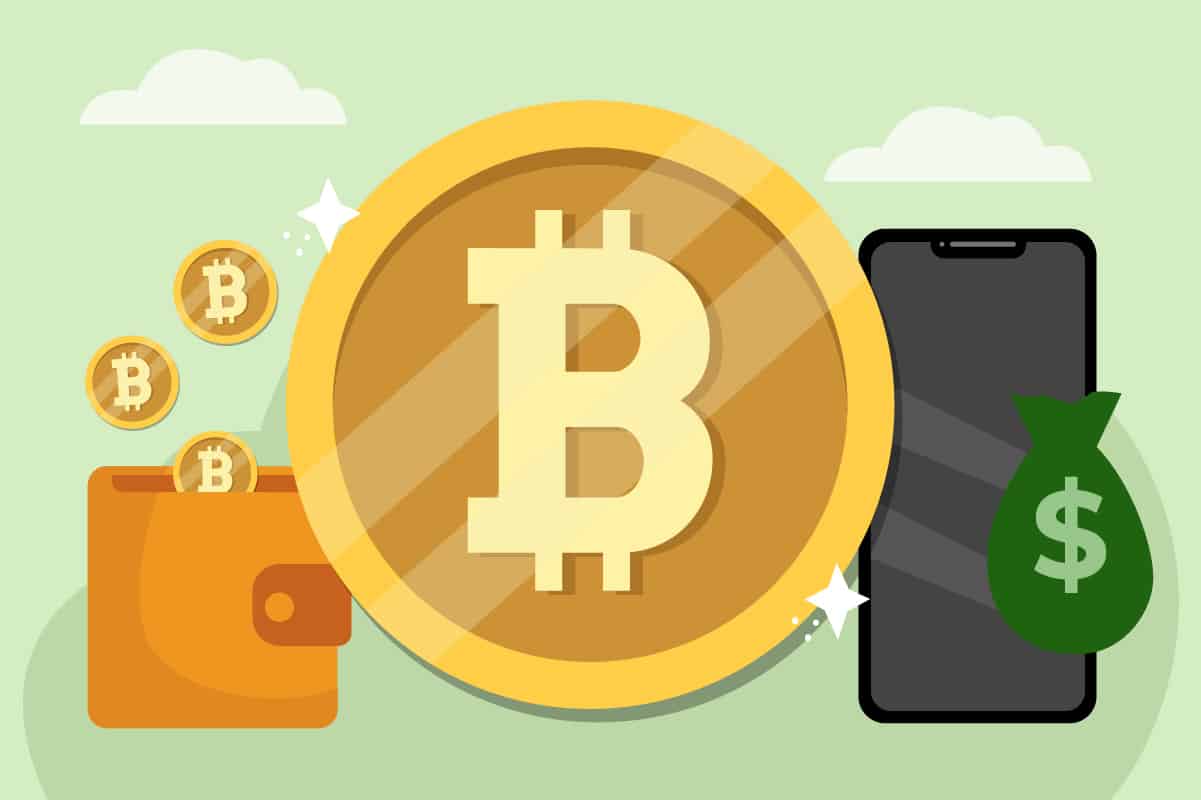 Conclusion: Blockchain's Future
What a large amount! And it's acceptable if you aren't yet ready to begin integrating blockchain into your business strategy or don't fully comprehend all of its complexities. Before blockchain becomes widely used, several years and support from many different businesses will be required.
And although though we advise small and medium-sized businesses (SMBs) not to worry too much about blockchain just yet, it's critical to monitor the developing technology as larger corporate businesses begin to build more blockchain applications.
The next time you feel like giving up on life because you didn't buy bitcoin when it was hot, just keep in mind that blockchain is still developing and has a long way to go before it realises all of its potentials.