In a testament to the enduring appeal of the United States as a top destination for international education, the latest Open Doors 2023 report shows a significant increase in international student enrollment. With more than one million international students flocking to US shores, the US has reaffirmed its position as a global leader in higher education.
India, which become top- sending nation for international students to the US. With a staggering 35% increase year-over-year, Indian students have demonstrated their constant dedication to pursuing higher education in US. This increase in growth is motivated by a multitude of factors, including the US's world-class universities, diverse academic offerings, and strong job prospects for graduates.
The US's appeal extends beyond India, with international student applications from other countries also seeing significant growth. Eight places of origin, including Bangladesh, Colombia, Ghana, India, Italy, Nepal, Pakistan, and Spain, have reached all-time highs in international student numbers. This global rise in interest underscores the US's constant dedication to improving cross-cultural understanding and promoting global collaboration.
The Open Doors report also highlights the resilience of international education in the face of global challenges. Despite the lasting effects of the COVID-19 pandemic, international student enrollment has rebounded with remarkable strength. This adaptability speaks to the deep-rooted value of international education and its ability to transcend borders and unite individuals from diverse backgrounds.
Key Findings of the Open Doors 2023 Report
The US hosted over 1 million international students in 2022/2023, an increase of 12% from the previous year.
India achieved an all-time high with a 35% year-over-year increase in international student enrollment.
New international student enrollment rose by 14%, reaching nearly pre-pandemic levels.
The report highlights the resilience and recovery of international education in the US, emphasizing its position as a premier destination for global education.
The US's commitment to international education extends beyond attracting international students. The country also plays a pivotal role in facilitating US student mobility abroad. During the 2021/2022 academic year, US. study abroad rebounded to more than half of pre-pandemic levels, with over 188,000 students pursuing opportunities abroad. This rebound reflects a growing recognition among US students of the importance of cross-cultural immersion and global engagement.
Looking ahead, the future of international education in the US appears bright. The Open Doors report provides encouraging signs of continued growth, with US higher education institutions reporting an 8% increase in international students in Fall 2023. The Survey, found that 83% of US institutions expected study-abroad totals to increase in 2022/23 and beyond.
As the US continues to embrace international education, its commitment to fostering global understanding and promoting innovation will remain unwavering. By providing a platform for diverse perspectives and fostering cross-cultural collaboration, the US will continue to play a leading role in shaping the future of global education.
Understanding the Rewards and Challenges of Higher Education in the United States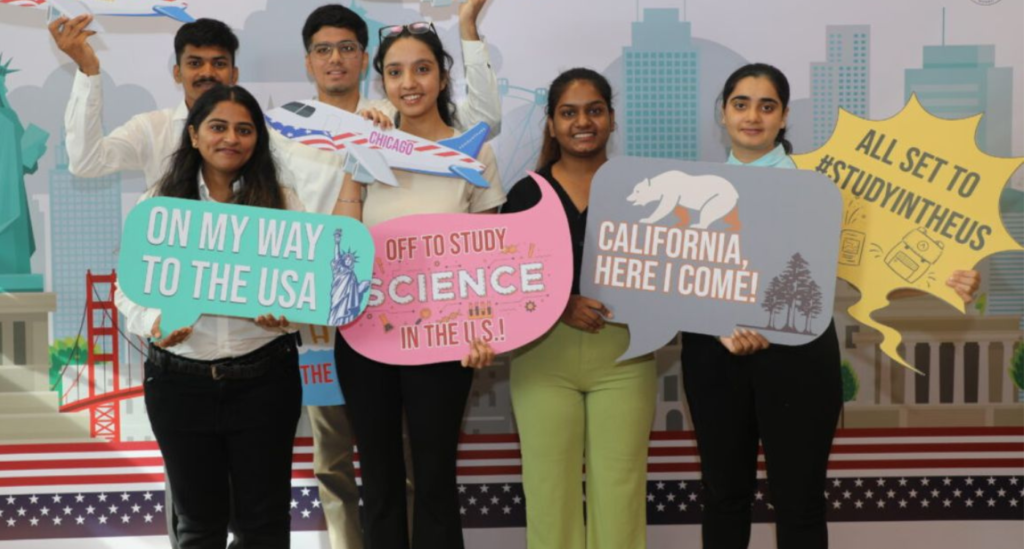 US universities are globally renowned for their academic excellence, diverse offerings, vibrant campus environments, and global recognition. These institutions offer a wide range of programs, interdisciplinary studies, and unique research opportunities, catering to diverse interests and career aspirations. US campuses are dynamic and multicultural, providing a stimulating environment for personal and intellectual growth.
A degree from a US university is highly respected worldwide, opening doors to promising career opportunities both domestically and internationally. US institutions also emphasize practical experience, providing internships, research projects, and professional development workshops. Studying in the U.S. exposes students to diverse cultures, fostering global citizenship and cross-cultural understanding. U.S. universities also offer access to advanced technology, world-class libraries, and extensive research facilities.undefined
US higher education is often considered expensive, with tuition fees, living expenses, and other costs significantly higher than in many other countries. International students must navigate a complex visa process and adhere to immigration regulations, which can be challenging and time-consuming. Adapting to American culture, social norms, and language can be challenging, potentially leading to culture shock and social adjustment issues.
The highly competitive nature of US higher education makes it difficult for international students to secure academic and career opportunities. Studying far from home can lead to feelings of isolation and homesickness, making it essential for international students to establish a strong support system. Limited financial aid options and potential language barriers can also pose challenges. Healthcare costs in the U.S. can be expensive, necessitating additional health insurance coverage.undefined
US higher education offers a multitude of advantages, including academic excellence, diverse academic offerings, vibrant campus environments, and global recognition. However, it is crucial to consider the challenges associated with studying in the US, such as the high cost of education, complex visa processes, and cultural differences. Prospective international students should carefully weigh the benefits and drawbacks before making a decision about studying in the US.