After the data was made public, a representative of the Education Department's research division stated that students in 2022 are performing at a level last seen two decades ago. COVID-19's effect on students' academic performance and what it might signify for teachers
The largest losses for students in more than 50 years may be seen in new federal data, which is the first to compare scholastic success before and after the coronavirus outbreak.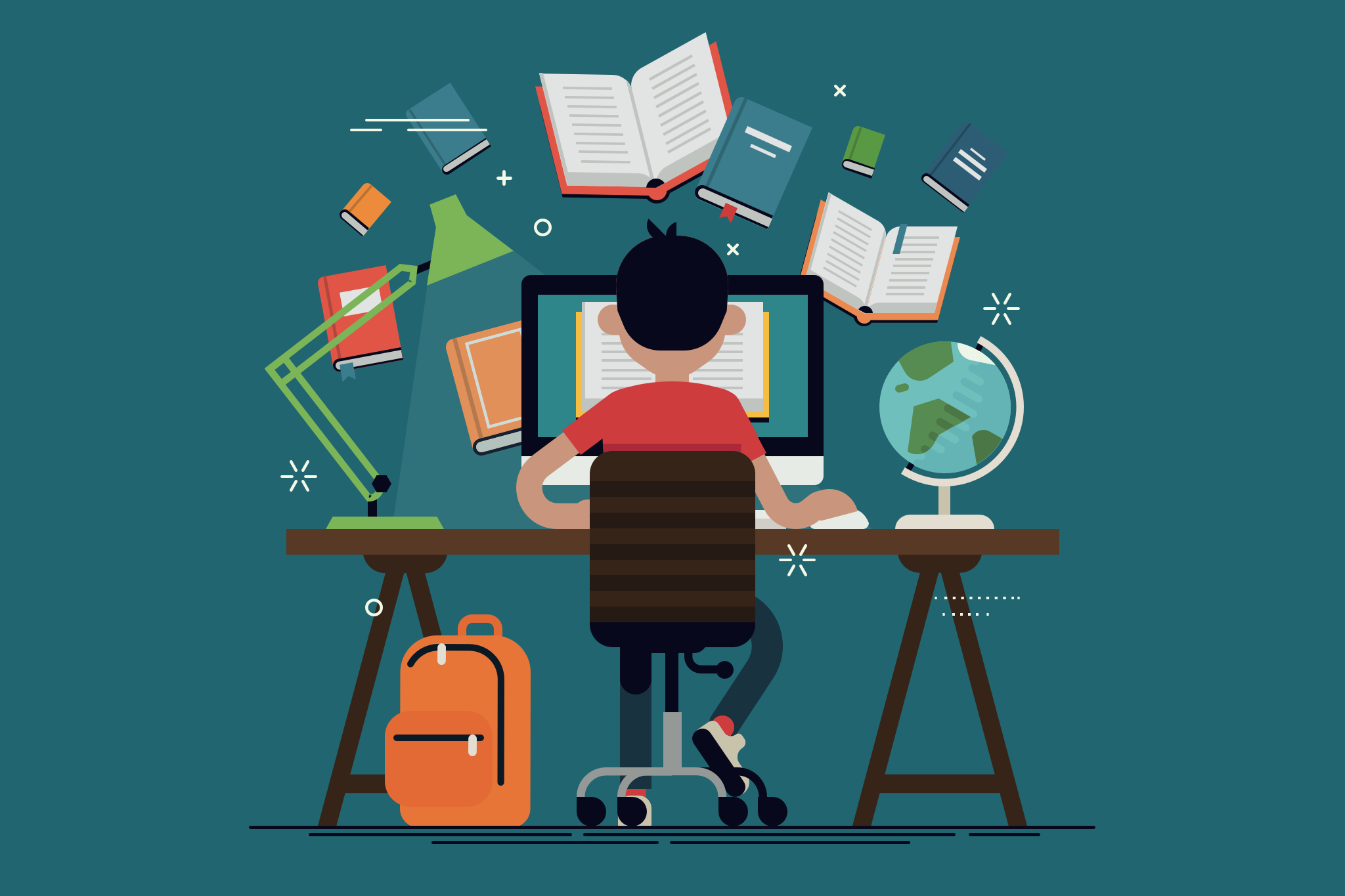 "These are some of the largest declines we have observed in a single assessment cycle in 50 years," Daniel McGrath, the temporary assistant commissioner of the National Center for Education Statistics, the research division of the Education Department, stated, "Students in 2022 are performing at a level last seen two decades ago."
Due to COVID-19, almost all K–12 students in the US are currently missing face–to–face instruction. Thus, many parents and educators worry that when the outbreak ends, students may return to school worse prepared. Additionally, there are worries that the achievement gap between high- and low-achieving students will widen. We decided to use earlier test results from millions of students and studies on summer learning patterns to generate informed forecasts of what learning loss due to the pandemic may entail in addressing these concerns. In the end, we were interested in understanding: What kind of learning deficits may we anticipate from the abbreviated 2019–20 school year?
The peculiarities of COVID-19 make it difficult to provide an answer to this topic. Because of recent school closings, more students are now spending more time at home during the summer months without receiving direct teaching from teachers in person. While parents juggle job duties (if not unemployment) with raising and educating their children, teachers scramble to adapt content for an online platform. The solitude, fear of a lethal infection, and lack of assurance about the future are all issues that students must deal with. For the majority of people alive today, the current situation is unprecedented in a variety of ways.
According to NCES Commissioner Peggy Carr, "during the epidemic, NCES continued and enhanced other data collections on education challenges, and they paint a sobering picture." Violence in schools, disturbances in the classroom, teacher and staff turnover, absenteeism, cyberbullying, and the usage of mental health services by students are all on the rise. For the outcomes of the long-term trend evaluation, this information offers some crucial background.
Declines in arithmetic and reading are scarcely surprising considering the considerable scholastic difficulties that have been publicly reported as a result of disrupted education even during the coronavirus pandemic. However, the findings from the National Assessment of Educational Progress, the first and only report with a nationally representative sample of students, confirm many school leaders' worst suspicions and demonstrate how extremely damaging school problems have been, particularly for those students who are already the furthest behind.
The lowest-performing students recorded a 12-point loss in math scores, while the greatest achievers only posted a 3-point decline. Overall math scores have dropped by 7 points since 2020. In the meantime, 9-year-olds' average reading scores dropped 5 points between 2020 and 2022, with the lowest-achieving students reporting a 10-point decline in comparison to the best-achieving students, who reported a 2-point decline.
The results, according to Education Secretary Miguel Cardona, "bring a stark light" to what school administrators, teachers, and families have gone through over the past two years.
The progress and academic well-being of students were significantly impacted by the pandemic, he claimed. This information should serve as a reminder to everyone that we must continue to work to improve student learning outcomes, address their mental health issues, and support the teachers who work with students in classrooms every day.
Between 2020 and 2022, scores for white, Black, and Hispanic 9-year-old students decreased in both math and reading, while Black and Hispanic students dramatically underperformed in math, including some of the highest-achieving Black students.
For white students, math test scores dropped by 5 points, for Hispanic students by 8 points, and Black kids by 13 points. The reading proficiency of white, black, and Hispanic kids fell by 6 points. Lower-performing students of all races and ethnicities saw declines in their scores, whereas students who performed better overall showed no change.
For students who were two or more races, American Indian or Alaska Native, or Asian/Pacific Islander, math and reading score changes from 2020 were not statistically significant.
Notably, arithmetic and reading test scores declined for students from every academic area, including urban, rural, and suburban ones, regardless of how quickly schools were able to reopen for in-person instruction.
The former governor of North Carolina and current head of the National Assessment Governing Board, Beverly Perdue, remarked, "The results corroborate our fears that students have not made significant intellectual progress." Fewer than 9-year-old students now possess the essential reading and numeracy skills. This puts their futures, as well as the future of our country, in grave danger and should motivate us all to take action. We cannot continue to blame COVID. We must hasten their education.
When NCES releases the so-called Nation's Report Card later this year, which displays math and reading results for students in grades four and eight from throughout the nation and in 26 urban school districts, it will provide a more thorough examination of students' achievement.
1. Particularly in mathematics, students could be significantly behind.
As a result, teachers from various grade levels may want to cooperate to decide when to begin teaching. A formal or informal early assessment of students will also be necessary for educators to determine where each youngster stands academically.
2. Students who have the greatest summer loss typically experience the greatest fall gain, however, this may not be the case for COVID-19.
Despite this, COVID-19 will likely mean that students have more ground to make up during the 2020–21 school year. To set challenging yet realistic learning goals for the year, educators may want to collaborate with students to estimate the development rates required to catch up.
3. Academic skill diversity among students is more common than it would be under normal circumstances when they first enrol in school.
As a result, teachers might need to think about how to further differentiate instruction or offer chances to students for personalised learning.
Finally, the impacts of COVID-19 that our study is unable to evaluate might be the ones that need our attention the most. Prior studies on students affected by Hurricane Katrina showed that they struggled with concentration and frequently displayed depressive symptoms in the months after the storm.
It will be crucial to comprehend these effects and how to effectively meet students' social and emotional needs following the massive disruption of COVID-19. Numerous students might experience increased food insecurity, decreased family income, the death of family members due to the coronavirus, and fear of becoming infected.
Although the scale of the COVID-19 school closures is unusual, the inequities in our educational systems, sadly, are not. The fact that the crisis is having an uneven impact on our most marginalised populations cannot be accounted for by our models. However, we hope that these assessments, which summarise what we already know from current bodies of research, can help guide future judgement.
Students speak for a "lost generation" or suggest that hope should be abandoned. There is a lot we don't know about students' ability to be resilient in such situations and what a recovery schedule will entail because the majority of us have never experienced a pandemic.
According to Human Rights Watch, school closings will result in the sudden end of education for millions of students rather than a temporary disruption.
The research indicates that even for students who have returned or who will return to their schools, they will continue to experience the effects of lost learning during the pandemic for years to come.
The damage to many children's schooling is a result of pre-existing problems: according to UN data, one in five students was not attending school even before the Covid-19 virus started to spread. Even before the pandemic, students from groups that experienced prejudice and exclusion from education tended to be most hurt by school closures brought on by COVID.