Main Highlights:
What is Logistics?
Over 100 Universities Are Adding Logistics Courses to Their Regular Curriculum.
The key distinctions between SCM (Supply chain management) and logistics.
Logistics' function in supply chain management.
Why Supply Chain Logistics Are So Important?
Why are supply chains so dependent on logistics training?
How Logistics and Supply Chain Management are Essential to Success.
What is Logistics?
In general, logistics refers to the meticulous planning and execution of a complex task. In a broad sense, logistics is the management of the movement of goods from their point of origin to their site of consumption in order to satisfy the needs of clients or businesses.
In logistics, resources can be managed in the form of consumables like food and other consumables as well as tangible assets like materials, equipment, and supplies.
A military force without resources and transportation is defenceless, hence logistics in military science is concerned with preserving army supply lines while sabotaging those of the enemy. Since the modern military has a considerable demand for logistics solutions, sophisticated implementations have been created.
Military logistics was already used in the ancient world. Officers in charge of logistics in the military decide when and how to send resources to where they are needed.
When it comes to supply chain management and supply chain engineering, logistics management is the area that plans, executes, and regulates the efficient, effective forward and reverse flow and storage of goods, services, and related information between the point of origin and point of consumption to satisfy the needs of customers.
Software designed specifically for simulation may model, evaluate, visualise, and optimise the complexity of logistics. A consistent driving force across all logistics disciplines is minimising resource utilisation. The term "logistician" refers to a professional who works in the logistics management industry.
There are degrees, postgraduate degrees, and certificate-level courses in transportation and logistics. Additionally, certificate programmes in logistics and transportation are offered. Both full-time and distance learning options are available for students who want to study transportation and logistics. With an MBA degree, the specialisation is offered by several institutions. Candidates can discover employment prospects after completing transport and logistics courses in industries including healthcare, publishing, FMCG, fashion and leisure, etc.
Over 100 Universities Are Adding Logistics Courses to Their Regular Curriculum. 
According to a government official, over 100 universities in all 50 states and union territories have been identified as having appropriate logistics course modules that can be added to standard curricula.
According to the official, the action is intended to develop enough graduate- and post-graduate-level courses and programmes on logistics and supply chain management.
The number of supply chain management and logistics courses and programmes available at these levels is currently minimal.
Additionally, there is no suitable structure in place for curriculum approval, competence mapping, or job role identification.
The All India Council for Technical Education (AICTE) formed a task force to address these issues at the request of the Logistics Division of the Commerce and Industry Ministry. This task force's primary objective is to develop and implement various technical and skilling courses with the assistance of top institutions throughout the nation.
Through its accredited universities, the AICTE is also pushing a number of technical courses, such as supply chain management and logistics.
"There are over 100 universities in all 36 states and UTs where pertinent logistics course modules can be added to standard curricula. In addition, online and vocational courses on logistics are being created for these colleges to offer specialised training and instruction, "the official stated.
Additionally, in collaboration with numerous central ministries and departments, online training programmes are being developed for civil workers to help sensitise them to important logistics efficiency and ease-of-achievement factors.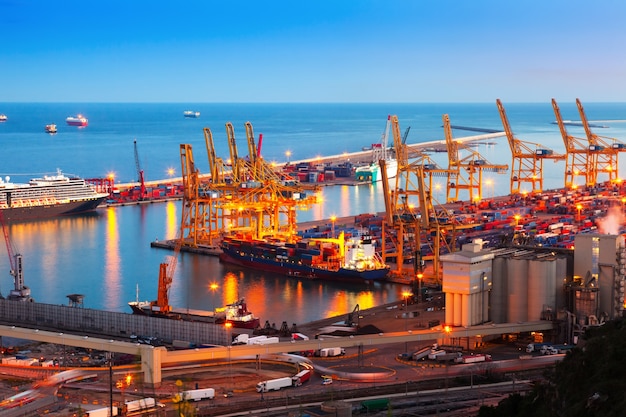 "Nearly 22 million individuals are employed nationwide in the logistics industry. The government prioritises the need to improve the nation's human resources in order to realise the goal of a USD 5 trillion economy, with its continued rise projected to see a CAGR of 10–12% by 2025 "added the official.
In order to increase company competitiveness, manufacturing, exports, and job creation, the government is taking initiatives to reduce the cost of logistics.
Also being developed by the ministry is a national logistics policy. The goal is to lower the cost of logistics from its current 14% of GDP to less than 10% in the upcoming years despite India's logistics industry being highly fragmented.
Among the key distinctions between SCM (Supply chain management) and logistics are:
Activities in supply chain management include logistics. Planning for production and inventory, scheduling labour, managing supplies and facilities, producing, and providing goods and services are only a few of the operations covered by SCM.
Logistics places a strong emphasis on fulfilling customer demands and expectations, while SCM strives to improve processes to gain competitive advantages.
Delivery of goods to customers efficiently and affordably is the main focus of logistics.
The movement of finished goods from the supplier to the production to the warehouse to the merchants and/or consumers is governed by supply chain management.
The military is where the word logistics first appeared. Alexander the Great, who was born in 356 B.C., is regarded by many historians as a logistics expert.
Logistics' function in supply chain management.
Throughout an item's route to the consumer, logistics is in charge of the movement and storage of goods and services as well as the paperwork and reports that track those movements.
Transportation strategies used to move inventory between locations are included in logistics. Effective supply chain management requires this component to determine where items can be stored at each stage until they are required at another site.
Why Supply Chain Logistics Are So Important?
Because it organises and tracks the people and resources required to keep and transmit products and services, logistics is a crucial component of supply chains. Logistics make ensuring that supplies and goods move dependably, on schedule and within budget.
Particular logistical components that assist supply networks include:
supplying the appropriate goods at the appropriate time.
lowering expenses and increasing effectiveness.
assisting in customer retention and fostering loyalty.
providing some businesses with a special value offer.
supplying a method for getting products to the customer from the place where production is most affordable.

Source: Google image
Why are supply chains so dependent on logistics training?
As consumer patterns evolve, the logistics industry is continuously changing as well. Employees and their employers benefit from logistics training that keeps them up on date-on best practices. A corporation can assess and enhance its distribution, product design, and client demand tactics with the use of training.
How Logistics and Supply Chain Management are Essential to Success.
Logistics and supply chain management both serve customer needs and enhance the shopping experience. Customer demand is directly reflected in logistics. SCM makes use of this information to forecast production and inventory levels and to understand what customers desire.
The path to effective supply chain management is paved by reliable, cost-effective logistics. Orders that are accurately and promptly filled as a result of a well-managed supply chain can eventually draw in new customers and boost revenue.