Main Highlights:
The IIT Madras
IIT Madras's Online Education Experience
Why Launch an Online Degree Program?
Details about the online degree program
An innovative online BSc degree program in programming and data science has been introduced by the Indian Institute of Technology (IM) Madras. On Tuesday, June 30, 2020, Union Human Resource Development (HRD) Minister Ramesh Pokhriyal Nishank introduced the first online BSc Degree programme in programming and data science.
IIT Madras has the vision and mission to help the country advance on its path to self-reliance, even during this challenging time when the nation is fighting the COVID-19 pandemic and everyone is forced to be at home, the HRD minister said when launching this program.
"Analysis reveals that every year 7 to 75 lakh Indian students go abroad in search of better education. Institutions such as IIT Madras have the vision and mission to help the nation move forward on its path to self-reliance.
Continue reading to learn more about IIT Madras's programming and data science programs.
The IIT Madras
One of the top institutions of national significance for higher technical education and research is the Indian Institute of Technology in Madras.
The German government contributed technical support for the establishment of an engineering higher education institution in India in 1956. In 1959, the first Indo-German agreement for the founding of the Indian Institute of Technology in Madras was signed in Bonn, West Germany.
Prof. Humayun Kabir, the Union Minister for Scientific Research and Cultural Affairs, officially opened the Institute in 1959. There are 23 Institutes of Technology in the IIT system.
The earliest of these were established in Kharagpur (1951), Mumbai (1958), Chennai (1959), Kanpur (1959), Delhi (1961), Guwahati (1994), and Roorkee (1961). (est. 1847, joined IITs in 2001).
The Institute houses sixteen academic departments as well as a number of cutting-edge research facilities in a range of engineering and pure science fields. IIT Madras' preeminent status is a result of its outstanding faculty, outstanding technical and support staff, intelligent student body, and efficient administration.
The university is situated in Chennai, formerly known as Madras. Tamil Nadu, a state in southern India, has Chennai as its state capital.
IIT Madras's Online Education Experience
IIT Madras is prepared to provide a degree program online. For the past five years, NIRF has recognised us as the top Engineering Institute, and for the previous two years, it has placed us as the top Overall Institute.
Additionally, as part of an inter-IIT consortium effort in 2001, IIT Madras launched the NPTEL program, the nation's first online content portal, and nptel.ac.in is one of the biggest online course portals in the world. The first MOOC in the nation, NPTEL online courses were developed by IIT Madras in 2014. (MOOC). NPTEL is currently regarded as India's largest MOOC provider.
NPTEL has made the largest contribution to the SWAYAM MOOC platform since it was created by MHRD in 2017. Additionally, NPTEL oversees the network of more than 3800 SWAYAM local chapter institutions as well as the national MOOCs portal swayam.gov.in. Since IIT Madras is still in charge of the NPTEL project, they are the ideal organisation to provide an online degree program.
Why Launch an Online Degree Program?
IIT Madras wants to connect with all of India's ambitious and driven students. The best method to do this is with an online degree because it is not constrained by on-campus physical facilities.
We can accept 50,000 to lakh students every batch because our education is entirely online.
It is a game changer because learners of all ages and working professionals can enrol in it.
Any student currently enrolled in a traditional college can enrol here and complete their second degree. Students will now be able to pursue two-degree programs concurrently if one of them is online, the University Grants Commission stated in 2020.
Students from different streams, such as commerce, the arts, law, and of course scientific students, can join this program because there are no constraints on the base disciplines. All industries and specialities are finding uses for data science and machine learning.
Three times a year, all courses will be presented. As a result, students can choose to advance through the curriculum at a pace that suits them.
The curriculum allows students the freedom to define their own objectives. A certificate and exit are available to students who successfully finish all 8 courses at the Foundational Level. As an alternative, they can continue on to the Diploma Level's more specialised courses and graduate from IIT Madras with a Diploma in Programming AND/OR Diploma in Data Science.
However, those who are interested in earning a BS degree might continue on to enrol in degree-level courses. The Academics page has more information. They can obtain certificates that will aid them with greater career opportunities based on their requirements.
The curriculum will be delivered with the same level of rigour as all other IIT Madras programs. To pass any course, students must devote time to their coursework each week and meet the prerequisites.
Since the program is online, participants can access the course materials from any location. They require a laptop or desktop, a strong internet connection, and—most importantly—the motivation to study and put in significant effort.
Only for the quizzes and tests each term, learners will be required to travel to specific exam centres. view the section on test cities.
A lively academic staff will moderate a discussion forum for each course to assist in answering questions. In order to assist students with Diploma Level and Degree Level courses, we intend to hire more individualised mentors.
We are thinking about partnering with businesses in the future to create internship and project opportunities. This will make it easier to hire our students who do well in the program.
Which programming and data science courses are available?
The following online programs are offered by IIT Madras: a BSc in Programming and Data Science, a Diploma in Data Science, and a Diploma in Programming.
When will the IIT Madras Data Science application process start?
The start of the application procedure will soon be made public. The deadline to apply for the IIT Madras Data Science programme is tentatively set for September 15, 2020.
Does JEE eligibility have to be met in order to enrol in this course?
No, JEE is not required for candidates who wish to enrol in IIT Madras' programming and data science programs.
You can apply for this program even if you are a current batch of students who will graduate from high school in 2020 or who are enrolled in another on-campus program somewhere in India. This program is open to working professionals and recent graduates.
Who can enrol in the data science program at IIT Madras?
Candidates may pursue this program as a second degree while still enrolled in college. Anyone can apply for this course, regardless of whether they have a bachelor's degree or not.
Is there a minimum age requirement to enrol in this program?
Candidates should be aware that there are no restrictions based on their age, stream, or location can enrol in IIT Madras's programming and data science courses.
Where do I apply?
Once the application process is underway, qualified individuals may submit their applications by completing the online application form at onlinedegree.iitm.ac.in. Soon, additional information about the application form and the necessary paperwork will be made accessible.
What is the cost of the application?
Candidates would have to pay a 3000 rupee application fee. The cost of the qualifier process content and qualifier exam is included in the charge.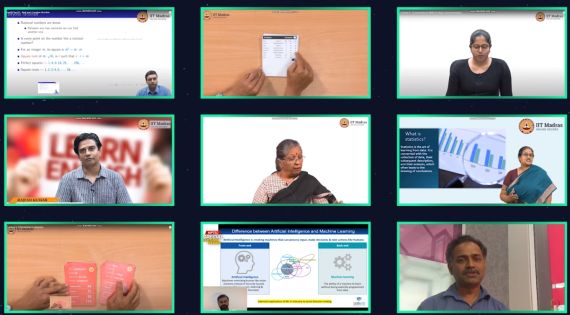 What is the pricing schedule?
The fee schedule for each term is determined by the learner's enrolled course level and the number of course credits. Foundational Level courses will cost Rs 1000 per credit. Courses at the diploma or degree level would cost Rs 2500 per credit.
A 50% fee waiver is available to applicants who fall under the Scheduled Caste (SC) or Scheduled Tribe (ST) categories. People with Disabilities (PwD) (disability rate of 40%). If a learner is both PwD>=40% AND falls within the SC/ST category, there is a 75% cost waiver.
The cost to repeat a whole course is the same as the cost of the entire course. For foundational level courses and diploma/degree level courses, the cost to just retake the final exam is Rs 1000.
When a learner successfully completes/passes each course in a single attempt, the pricing structure shown in the table above is applicable. According to the rules outlined in the section Learners who do not pass a course, each time a student fails a course, the cost must be paid again when re-registering for it.
Are these IIT Madras diplomas and degrees authentic?
The diploma(s) and a degree in programming and data science are approved and offered by the IIT Madras Senate. Candidates who successfully complete these courses graduate from IIT Madras.
What does the qualifying process entail?
Online courses and tasks must be finished in four weeks by candidates. Generally speaking, the candidate who receives the minimum required scores on each of the four weeks' worth of assignments will be qualified to take the qualifying exam. Students can register for Foundational Level courses if they receive the minimum necessary marks on the qualifier exam.
What does the program's structure look like?
Three stages of the program—the Foundational Level (8 courses), the Diploma Level (6 programming courses plus 6 data science courses), and the Degree Level (11 courses—must be completed in a specific order.