The Japanese educational system consists mostly of six-year elementary schools, three-year junior high schools, and three-year high schools, with two-or three-year junior colleges or four-year colleges following. Through elementary and junior high school, compulsory education lasts 9 years. School exchanges are primarily implemented in junior high and high schools during Japan Educational Travel. There is a system called "Special Needs Education" that supports physically or mentally challenged children in developing their self-reliance and enhancing their social involvement.
HOW IS THE STAFF ORGANISED BY THE SCHOOL ADMINISTRATION?
A principal, a vice-principal, teachers, a school nurse, and other administrative staff are assigned to each school. As the school's senior executive, the principal is responsible for all of the school's tasks, including the courses offered and related administrative activities. The vice-principal assists the principal in managing the school's administrative concerns as well as overseeing students' educational activities and curriculum.
Furthermore, in order to maintain the proper running of the school, teachers take on a variety of obligations, including overseeing instructional activities, student life, and post-graduation employment assistance. Many schools form their own committees to deal with certain issues.
What are the advantages of Japan's educational system?
In terms of educational attainment-:
Even by international standards, Japanese education is excellent. Japanese students performed well in the OECD's (The Organization for Economic Co-operation and Development) Programmed for International Student Assessment (PISA) for fifteen-year-olds, notably in science-related topics. Outside of school, educational activities flourish, and programs leading to advanced education are established.
High school enrolment, which is the second part of secondary education, is over 90%, while college enrollment is over 50%. Entrance exams, which are held from January to March, are the primary means of admission to high schools and colleges.
Foreign languages programs -:
In junior high and high school, English is a required subject. There are also elementary schools that start teaching English as early as the second grade. Aside from English, some high schools allow students to take courses in Chinese, Korean, French, German, and other languages.
Most special feature -: The Student Council
Student groups are an important aspect of Japanese schooling. Students with similar interests in sports, cultural activities, or fields of study voluntarily gather together after lessons and on days off under the leadership of their teachers.
 There are also various student clubs devoted to traditional Japanese sports and culture, such as judo, kendo (Japanese swordsmanship), Sado (Japanese tea ceremony), kado (Japanese flower arrangement), and shodo (Japanese calligraphy), among others. Students can also take part in school exchanges and friendly matches through club activities.
Cons of Japanese educational system-:
To begin with, the Japanese educational system does not encourage students to be creative. The fundamental reason for this is that university entrance examination criteria are regulated. In Japan, university admission is not based on a student's high school grades. That is, only the results of the entrance exams determine whether students are accepted or can enroll at a university. As a result, high school students place an excessive focus on memory.
 Students are particularly focused on mastering specific skills in order to succeed. They spend so much time studying for entrance exams that they have little time for other things like class. Discussions, presentations, and experiments are all expected to be part of the course.
Second, pupils do not have a great deal of autonomy. One explanation is that there are so many assignments and exams in high school. The third year of high school (equal to a year of college) is the most common (in Canada, from kindergarten to grade 12) is the most common. Every week, students have at least one exam. As a result, they don't get many weekends off. They spend practically all of their vacations doing things like taking additional lessons during the summer holidays.
Finally, the Japanese educational system causes students to lack a sense of the future. One of the key reasons is instructor pressure. The percentage of pupils that attend university, particularly prestigious universities, has a direct impact on the school's reputation. The more kids will attend good universities, the better the high school's image will be. As a result, a greater number of students will apply to high school. As a result, teachers are frequently keen to encourage pupils to pursue prominent institutions rather than focusing on their long-term professional objectives. Teachers' pressures prevent students from developing a clear perspective of their future.
What is the result of this criticism of the educational system?
In response to external criticism, the Japanese educational system has undergone some changes. Despite the fact that many parents of today's elementary school children claim they are unable to speak in front of a group of people, their children are becoming accustomed to it, with group presentations to the class being a common assignment at school, particularly in the first two years.
The acquisition of the Japanese language is a clear benefit of enrolling your child in a Japanese public school. Over the course of six years of primary school, your child will learn the Japanese alphabet (hiragana, katakana, and romaji) and roughly 1,000 basic kanji (Chinese-style characters) in addition to six hours of Japanese-language immersion each school day. This knowledge will be required if your child continues her education at a Japanese school. If she wants to study at a Japanese university, she will most likely have to go through the Japanese school system. In contrast, if your child wants to attend a foreign university, education via distance learning is a viable option.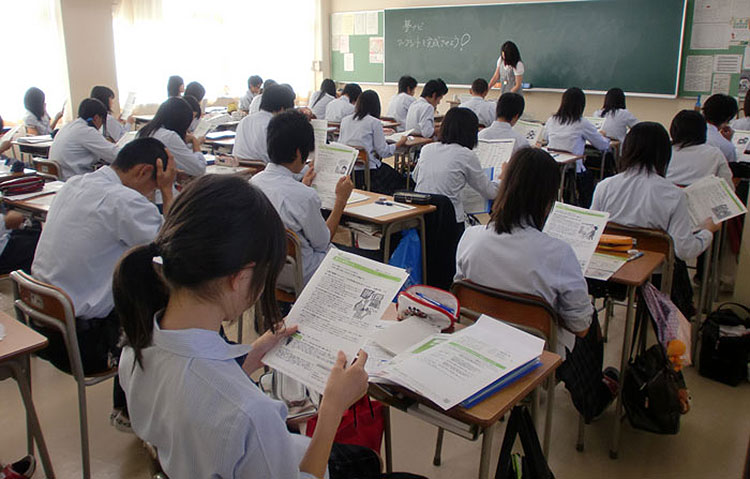 In Japan's classrooms, there have been advancements. They are shown how to use computers of the latest generation. They are learning about the modern world while maintaining their traditional values. They are now receiving the best education possible in a more favorable manner.
Enrolling your child in a Japanese public school will immerse your entire family in Japanese culture and provide you with a network of local friends and contacts that will make your time here more pleasurable. If your family is multicultural, the lessons you learn at Japanese schools will be tempered by what you learn at home and during trips abroad. This dual-culture experience instills empathy, compassion, curiosity, and open-mindedness in our children by teaching them that society is not the same everywhere. They will be well prepared to face the challenges that lie ahead.
Also Read: UK to provide free covid-19 test kits to its school-going population