Collaborative learning is on the rise as educators look for new ways to engage students in meaningful learning activities. Collaborative learning offers a way for students to work together on projects and assignments, learn from each other, and analyze real-world concerns. These collaborative activities are often referred to as SELs or team-based learning.
Collaborative learning can be challenging for teachers and administrators at certain times of the year. As a result, there are do's and don'ts of collaborative learning that you should know before getting started with your project. Here are some helpful tips on how to set up an effective collaborative learning environment in your classroom:
Collaborative learning is an educational model that combines individual and group approaches with technology to help students learn skills that enable them to work with others and make decisions. Collaborative learning is a combination of both individual and group work. This type of learning allows students to work together on projects, analyses, and experiments.
Collaborating with other learners can be difficult for all students because it requires them to share information, ideas, and resources with a team member whose learning style, personality, and strengths may differ from their own.
Collaboration can also be challenging for students with disabilities or additional needs. With these issues in mind, it is important for teachers to be aware of how to best engage students in collaborative learning activities.
Collaboration is an important skill for students to learn as they transition into working life as part of a team. Students may learn to negotiate and negotiate boundaries, manage expectations, manage conflict, and respect individual differences. This skill can also help address issues that arise in peer-to-peer (P2P) learning situations, which include bullying, cyberbullying, and harassment.
Do's
Make sure everyone has a say in the process
Collaborating with students can be frustrating if you try to lead the discussion without listening to their ideas and thoughts. As the sponsor of the project, you have the ultimate authority to facilitate discussion and get everyone on the same page.
You can ask questions to help facilitate the discussion and help guide the team to a common understanding. But, you cannot dictate the outcome of the discussion or what the next step of the project should be. You can create a space for students to express their ideas, but you shouldn't try to force a single point of view.
Do note the differences in roles and expectations before you start
Collaborative learning can be intimidating for teachers who are new to the method. It is important to remember that all activities that take place in a classroom are done with the intention of helping students learn. While engaging in a collaborative activity, it is important to remember that all students are different and may have different strengths, interests, learning styles, and preferences.
Therefore, you need to make sure that you select learning activities that meet the needs and strengths of the students you are working with. Furthermore, it is also important to note the difference in roles and expectations between a student leader and a teacher leader.
Don't forget to have clear communication before, during, and after collaboration activities
It is important to communicate with students before they begin their collaborative projects. What skills do students need to collaborate well? What expectations should students have of their teammates? What should be the end goal of the project? These are all important questions that you should consider before beginning a project.
It is also important to communicate during the project, especially if you notice that students are struggling with a particular aspect of the activity. When communication breaks down during a project, it is important to try to find a common ground and help students to solve their challenges.
Collaborative learning in the classroom
Although collaborative learning can be challenging for some students, it can also be effective for others who struggle to work independently. Therefore, it's important for teachers and administrators to adapt their approach to collaborative learning depending on the needs of their students. Collaborative activities can be excellent ways to help students meet the challenges that they face when working alone.
For example, students may struggle with expressing their ideas and gaining consensus when they are advocating for a cause or a position in a debate. By engaging in collaborative activities, students have an opportunity to learn how to work cooperatively and with others toward a common goal.
Collaborative learning in the digital age
Students today face challenges that are different from those that educators faced in the past. With the rise of social media and other digital tools, students have the opportunity to receive feedback and communicate with each other on a much deeper level. Collaborative activities can be used to help students build their communication and collaboration skills and make the most of these new digital tools.
Don'ts
Don't Over-complicate Collaborative Learning
Collaborative learning doesn't mean that professionals in any one field will all be meeting in a room together to swap ideas and collaborate on a project. While this is a great goal for some educators and students, it isn't necessarily the case for all. Many other professionals will find value in the opportunity to learn from others in their chosen field.
For these people, collaborative learning can be a great way to network and build skills that can help in their careers. To ensure that collaborative learning doesn't become unnecessarily complicated, it is important to keep in mind some of the Dos and UHH-iSSES above.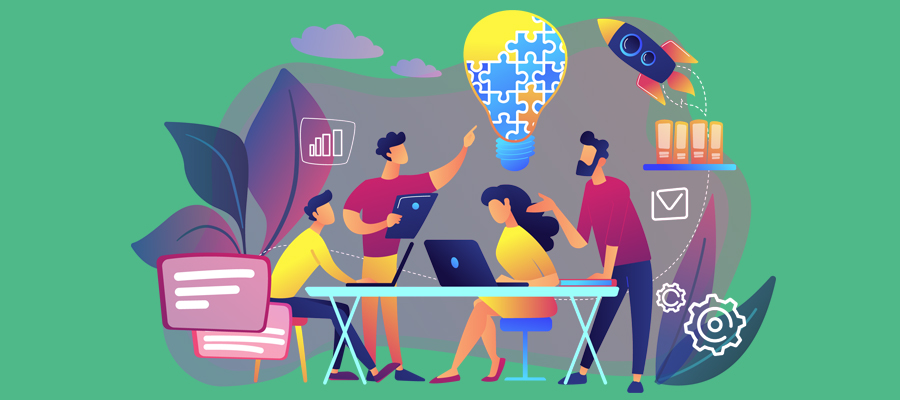 Collaboration is hard, but not everything needs to be handled by the instructor
This is a key realization that should guide your collaborative learning initiatives. You may have heard that the number of learners in a group should be between six and nine, with the remaining students working individually or as part of a small group. Unfortunately, this is not a rule that can be followed. You also should not have any of the learners in a group be the instructor or lead any sessions.
You want to avoid assigning all of the leadership roles to a few individuals in the group. This can cause confusion, misunderstandings, and a lack of ownership. Instead, try to find a balance between having a few individuals facilitate the learning and having many others lead the sessions.
Teamwork and communication skills are just as important in collaborative learning as individual skills
You may have heard that collaborative learning is a skill-free environment. This is not the case. It is important for learners to be able to work as a team to solve problems, as well as to establish clear communication and rapport with their partners.
While these are important skills to cultivate in any environment, they are even more critical in collaborative learning. It's important to remember that your students won't be working on just one project with one partner. They will be sharing a problem-solving space with multiple people.
Collaboration is a two-way street. You can't expect everyone to suddenly become a speaker or writer
While it is important to have some learners share their ideas and solutions in a collaborative learning environment, it shouldn't be the majority of the group's activities. The final pieces of an assignment or project will be written by the learners, but they will also be presenting their work to their partners.
You should expect that students will speak during collaborative learning sessions, but they should not be expected to be the primary communicators at all times.
Ummmm, why does this even matter?
This is one of the best questions to ask yourself when trying to figure out how to implement collaborative learning in your classroom. There are countless benefits to incorporating a more collaborative learning style into your classroom, but many of them may be difficult for you, as an educator, to fully understand without a little bit of hands-on experience.
One of the most obvious benefits is how it can help your students communicate more effectively with each other. By encouraging them to speak up and share their ideas, you are also teaching them how to listen to each other and respect each other's opinions and contributions.
It can also help to break the cycle of low-achieving students giving up because they don't see themselves progressing any further in their careers. Collaborative learning is a great way to show students that they don't have to be experts in their field to provide value to their community.
Summary
Collaborative learning can be challenging for teachers and administrators at certain times of the year. There are do's and don'ts of collaborative learning that you should know before getting started with your project. Collaborative learning is an educational model that combines individual and group approaches with technology to help students learn skills that enable them to work with others and make decisions.
It can be effective for some students and challenging for others. It can benefit from the power of technology, and it can also be done without it. It can be done with partners or in small groups, and it can be done one-on-one or in teams.