Main highlights:
Composition of the top 10 best cities to study abroad, and
What they are famous for?
One of the most popular study abroad destinations worldwide is unquestionably Europe. Choosing a country, let alone a city, to live and study in can be challenging because every nation has a distinctive culture and appeal, and the options can seem endless.
It can be very overwhelming to consider moving to study abroad. The ten best cities in Europe to study abroad are listed below to help you make your decision.
This list includes the top-rated and most thrilling locations to visit across all of Europe. The list below does not include all of the great cities, but it is the best place to start your search for the ideal European location for your study abroad programme.
1. Lisbon, Portugal: offers the highest quality of life.
Portugal may be one of Europe's smallest nations, but it is one of the most colourful, and Lisbon, its capital, is the best place to discover it. With a population of 500,000, Lisbon is small enough to be easily explored on foot but big enough to never be bored.
The pleasant climate and laid-back atmosphere of Portugal's capital attract many international students from Europe, making it a great location to study abroad and make new friends from all over the world.
Not to mention that the country has a high standard of living despite its low cost of living. Lisbon offers more for your money in terms of fine dining, luxurious lodging, and efficient public transportation.
You will undoubtedly be transported through Portugal's rich historical past as you stroll down the cobblestone streets of Lisbon's avenues with trees lining them. This riverside city is filled with art at every turn, from the vibrant street art to the buildings' bright candy-coloured tiled facades.
2. Berlin, Germany: best for the international student scene.
Berlin is a significant city in the area because it is the hub of Europe's most robust economy. With a reputation for having a rich history, the city is full of locations where visitors can learn about Germany's and Europe's extensive past.
Berlin is an incredibly cool city that perfectly embodies the "hipster aesthetic" without sacrificing its genuine character. History has shaped Berlin into the distinctive and indescribably cool city it is today. Berlin has something for everyone to enjoy, making it a great location to study abroad thanks to its diversity and wide range of attractions.
With more than 3.5 million inhabitants, the city is a little too big to explore on foot, but it has a fantastic public transportation system that will let you see every part of this vibrant city.
Many of Germany's top universities, including some of the best in Europe and the world, are located in Berlin, the country's capital. Education is a vital pillar of German society and is infamously inexpensive.
3. Florence, Italy: the best city for thriving art.
Students may envision the historic splendour of Rome or the glitz of Milan when they think of studying in Italy. Florence, though, tops them both as the best Italian city to study abroad. Despite being a little smaller and having fewer people than 382,000, Florence is still brimming with alluring beauty and fascinating history.
You can expect to see extravagant paintings, sculptures, and buildings in the Italian art capital. You will undoubtedly become enamoured with Florence's famed sights, such as the iconic Duomo or the Basilica of San Lorenzo.
Due to the numerous universities that call Florence home, it is also a centre for academia. Since the city has a sizable student population, it's a great place to meet other international students.
4. Madrid, Spain: The best city for learning languages.
One of the most popular study abroad locations in Europe, particularly for American students, is Spain. The majority of them are drawn to Madrid, the country's vast and vibrant capital.
Like you would expect from any large metropolitan city, there are plenty of people to meet and activities for everyone to enjoy. Language exchanges are especially common because of the large number of international students and English teachers.
Madrid is a fantastic option for any student moving to study abroad, seeking an academic experience because it is home to many reputable study abroad programmes and some of the nation's top universities. If you speak Spanish poorly, don't worry; there are programmes available for students of all proficiency levels.
5. Spain's Barcelona: The best city for cultural immersion.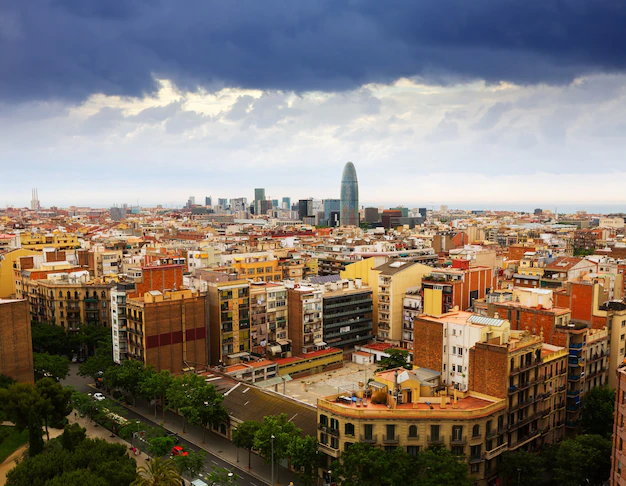 This coastal city is quite distinct from the rest of Spain because it serves as the capital of the Catalan people. Contrary to what you might imagine when you picture life in Spain, there are people who speak a foreign language and adhere to a different culture.
It is a truly ethnically immersive experience due to the blending of Spanish and Catalan influences.
Barcelona is a truly refreshing place to live and study abroad, despite being one of the most popular, study abroad locations.
6. London, England: The best city for top academics.
About half of all international students from the United States choose to study abroad in the United Kingdom, making it one of the most popular destinations in Europe. In addition to housing 13% of the country's population, London is also home to many foreign students moving to study abroad from other parts of Europe.
London is by far the most culturally diverse city in Europe and is also its largest city. In this enormous city, you can find any food or activity you can think of. Each borough in London has a distinctive culture and feel, making it impossible for one person to experience everything that London has to offer.
London is a great place to meet other international students from around the world who came to study abroad because it has a sizable international community.
7. Galway, Ireland: best for small-town vibes.
Images of Ireland's rolling green hills, craggy cliffs, and friendly people all conjure up the country's essence. Galway is adored by both locals and students who come to study abroad, despite the fact that Dublin, the nation's capital, receives the majority of the attention.
It is known as a bohemian city and has an eclectic music and arts scene. Galway, which is only two hours from Dublin, is a fantastic option for those looking to study abroad.
Any student who wants to study abroad, especially if they want to learn English and have an unforgettable experience abroad, should consider The Emerald Isle. Even better, you can pursue any academic field at the National University of Ireland Galway if English is your first language.
8. Amsterdam, Netherlands: The best access to travel.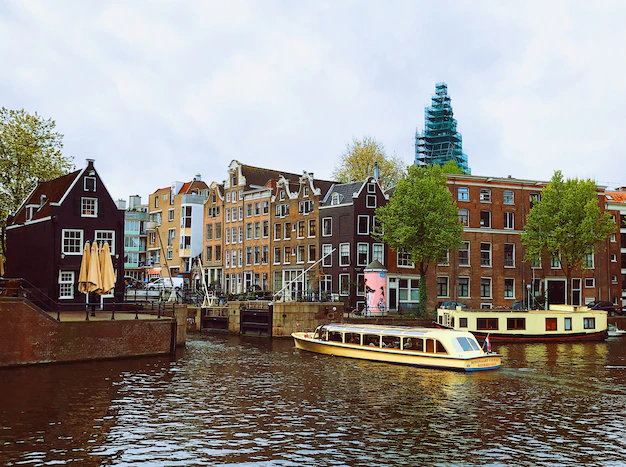 Anyone's heart will be stolen by a short stroll along Amsterdam's shady canals.
As an international student, it's a great place to go out because of the city's thriving music scene. If having a good time at night is not your top priority, there are many inviting cafes and peaceful parks like the gorgeously lush Vondelpark to pass the time. You can get a great view of the city's historic buildings and past by strolling the canals.
It is a truly global city because the welcoming culture of the Netherlands draws in students from all over Europe and the world. Although English is the majority language, Dutch is the official one, so don't worry too much about language barriers. This is particularly beneficial.
As the courses offered at the best universities will have a wide range of subjects suitable for almost any student, this is especially helpful if you're looking to study abroad in English.
9. Prague, Czech Republic: Has the lowest cost of living.
Univerzita Karlova, the oldest and top-ranked university in Central Europe, is located in Prague. Since the majority of people in the capital speak some English, many universities and programmes provide students who are coming to study abroad with a wide range of subject options.
Prague is a favourite among students studying abroad due to its affordable cost of living. There are affordable options for housing, food, and entertainment for any student who came to study abroad on a tight budget.
The breathtaking architecture that is exclusive to central Europe makes the sights in Prague truly breathtaking.
10. Paris, France: The best city for cosmopolitan living.
There is no denying that Paris is enormous; it can be both overwhelming and exhilarating. Tourists and students alike come from all over the world to the aesthetic streets.
Many foreigners and international students who came to study abroad from all over Europe and beyond call Paris their home because it is a large capital city. It won't be difficult for you to make new friends while studying there.
Paris has it all and more, including priceless art treasures, opulent cuisine, a rich history, and magic. There are countless activities you can engage in, so you'll never lack things to do outside of the classroom.
Paris, one of the most well-liked study-abroad locations in Europe, has a large number of reputable organisations and programmes that provide courses to foreign students, making it not only a lovely place to study but also one that is academically enriching.